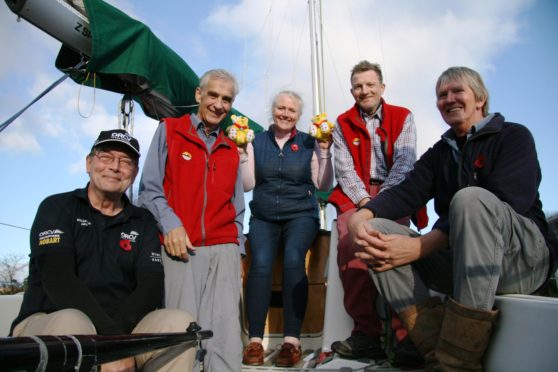 An intrepid team sailing non-stop round Mull  for Children in Need have contended a range of weather conditions from flat calms to force nine winds and and big seas – but have so far raised £8,000.
Tangle o' the Isles set off last Friday, co-inciding with the start of the famous Rickshaw Challenge, aiming to sail continuously round the Island of Mull until the Rickshaw Challenge finishes today.
Under skipper Joey Gough, Tangle had been forced to shelter in Tobermory on Sunday given the severe forecast, but has now made good progress despite later experiencing no wind at all.
The non-stop circumnavigation in Tangle, a First 32s5, has been described as a major offshore challenge.
Not only has the team met challenging weather conditions but a sudden squall broke some sliders on the mainsail and they had to shelter in Loch Spelve to make repairs.
Mr Gough is fighting his own personal challenge after a major operation at the end of August.
He and his team are pulling out all the stops for the charity and hope everyone will contribute whatever they can for the fund-raising spectacular which culminates in Children in Need Day today.
Mr Gough said: 'We've already had some extremely cold and uncomfortable conditions. Not only are the waters tricky to navigate particularly at night but the weather can change so quickly.
"We're doing this challenge to earn your sponsorship –every penny will go to Children in Need, which is such a worthwhile cause. Our JustGiving site is set up via the web page www.tangleotheisles.com."
Where possible the team have streamed video reports accessible via the website and social media and Tangle is trackable on AIS.  The journey can also be followed on Facebook.