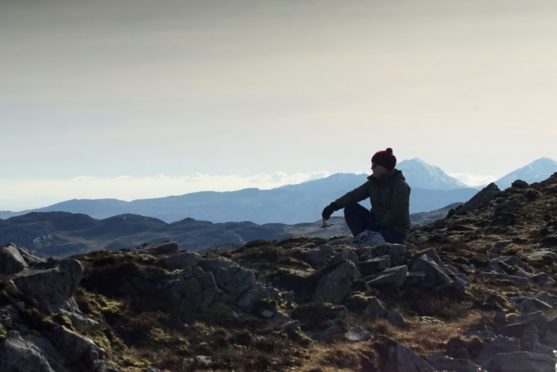 We've all dreamed of a more simple way of life, free of stress and the constant chime of technology. The idea of running your own croft can seem rather appealing on a Monday morning, as you face yet another traffic jam.
Perhaps you've just squeezed on to a packed bus where conversation is rare, as people stuff headphones into ears or hide behind a book.
You can't leave your key under the mat, and the chances of knowing your neighbour beyond a brief hello are slim.
What if you could leave this frantic pace behind and settle down in a close-knit community, where strong bonds run through generations of families?
Claire Fletcher did exactly that when she abandoned a hugely successful career in Glasgow for life in one of the wildest places in Scotland.
The Isle of Jura can be found off the mainland's west coast, and has a population of around 200 people – who are outnumbered by roughly 5,000 deer.
Jura is famed for its stunning mountain range, and was considered a place of solitude by author George Orwell. Claire arrived on the island 15 years ago with three small children, including a newborn baby.
Madness, or a stroke of genius, to abandon city life for a place where residents must put their faith in the weather to bring the ferry in on time?
This extraordinary way of life may not be for everyone, but the islands repeatedly come out top as the best place to live in the UK.
The Orkney islands were recently declared the happiest place to live, according to the latest government measure of wellbeing.
But what makes island life preferable to the mainland, and is there a different side to this supposed utopia?
your life spoke to three people living on three different islands to find out.
Claire Fletcher – Isle of Jura
Located off the mainland's west coast, Jura is a long and narrow island famed for its stunning mountains
We've lived here for 15 years now, but we've been visiting Jura since 1991.
We always knew that the estate here, which belonged to my husband's family, would one day come to us.
But visiting and living here all year round, well, the reality is very different.
I had a pretty intense career with the BBC, I was head of live music for Radio 1.
It was April when we arrived, I always remember that.
My youngest child was six weeks old and my eldest was three. We have 16,000 acres of ground to manage.
Right from the very start, this wasn't a playground for us.
We had to find a way of getting the estate to pay its way.
So we've got cattle, sheep, deer stalking and a hydro scheme.
You learn quickly that you have to be really organised.
If the ferry is off, which happens all the time in the winter, then you're on your own.
It's no use if your store cupboard is bare, you always have to be well stocked.
We have a community-owned shop; it's tiny but it can be a lifeline.
Wearing make-up doesn't really come into my life any more – I live in wellies.
We live down 17 miles of single track road which is appallingly maintained.
You become a lot less materialistic when you live in a place like this, you don't really care about having lots of stuff.
Life on Jura revolves around the seasons, so I'm much more tuned in to the weather.
My children have an incredible life here.
They camp and fish and see the ponies.
You aren't actually allowed to give birth on Jura because there isn't a hospital on the island.
I have four daughters – my youngest had to be born in Glasgow instead of Jura.
So the whole family came along, you're normally sent a few weeks before your due date.
I remember getting back to Jura with four kids and thinking I'd made a terrible mistake.
I'm also a type one diabetic, but we are very lucky here in that we have an incredible GP.
Up until five years ago, we relied on a locum.
So having a GP here, whose wife is also a GP, that has made a huge difference.
We really struggle for teaching staff, though.
There's a primary school, a pub and a village hall.
I think we're on our sixth head teacher.
Accommodation is a huge issue, it's really difficult to find somewhere to live.
Our primary school teacher is living in holiday let accommodation.
I think a lot of people who come to Jura are running away from things.
They think this remote life will be easy, which isn't the case.
This has been a complete lifestyle change.
I miss not being able to eat out and buy a Sunday paper plus a decent coffee.
Living here is really expensive and if you want something done, you have to make it happen.
That's why there are so many committees.
There is a fantastic community and everybody pulls together. The rest of the world seems to have got madder and badder.
We have the opportunity to live life in a completely different way.
I love springtime, I don't think I'll ever tire of it.
Even in a place as remote as Jura, we are seeing the impact of climate change.
Summer is coming earlier.
The rest of the year is really wet, we rarely get snow.
We can get Amazon Prime and John Lewis delivered to us.
Some shops have a surcharge, which really annoys us.
If you want to leave the island you have to go via Islay. It's about £100 if you want to take your car on the ferry.
I have no regrets about moving here, though.
One of my daughters wants to go into agriculture, the other wants to be a marine biologist.
And we also have an aspiring hairdresser, which is sorely needed on Jura.
Deenie McGowan – Isle of Lewis
The Isle of Lewis is at the north-west corner of the group of islands known as the Hebrides, or Western Isles. The Hebrides are known as the "long islands" as they stretch for 100 miles
Three generations of my family have lived here.
I left the island when I was 18, it was quite a common thing to do.
Most of my friends left as well. I went to college in Inverness and then Glasgow.
I moved back because I missed the beauty of it more than anything, and the freedom.
I don't think people living here have quite so many worries because there's a much better work-life balance.
Sometimes getting off the island can be problematic, though.
The price of flights is expensive and during the winter the ferry can get cancelled.
During the summer it is so busy with tourists and your chances of getting a late booking on the ferry are slim.
You have to book in advance, the number of tourists has steadily risen over the years.
I think it's because this place is getting more publicity.
It's really popular with photographers and we are getting more well-known for our products.
There's Harris tweed, Harris gin, lots of cosmetics and local seaweed.
The infrastructure is not necessarily there to support that amount of people.
More and more people are coming all the time.
A lot of companies don't deliver here – you can't get furniture sent, for example.
Most people get things delivered to a depot in Inverness, so you can give a mainland postcode.
When I was pregnant with my son, I got flown to Edinburgh because they thought I would go into labour early.
There is no neonatal in Stornoway, but I ended up giving birth there in the end.
In Harris, we have two local grocery shops.
The nearest supermarket is 37 miles away.
We can get home deliveries from Tesco, though.
More youngsters are staying put these days, not everybody wants to leave.
Tradition still prevails here, so a lot of people wouldn't do their washing on a Sunday.
Whether you adhere to that depends on where you live on the island and who you have around you.
I think you have to see this place to believe it.
My favourite time of year is autumn.
It's quieter and we actually get a lot of nice weather.
A crisp pure night here, now that's something special.
Gary Watt – Orkney
Orkney is off the north coast of Scotland, and offers idyllic beaches and dramatic sea cliffs
I was born in Dingwall but I was raised in Orkney.
I've been a captain on NorthLink for seven years now, although I was originally in the fishing industry.
It's two weeks on and two weeks off, and you get a wee bit of holiday.
We leave Orkney at 23.45 and arrive at 7am in Aberdeen.
It keeps you on your toes because the weather is always changing.
I don't get seasick, I think you tend to grow out of it.
Locals take the ferry all year round, and at Christmas time it is filled with people heading home.
It's quite a nice feeling, to know you have locals on board. I love going home because I like the peace and quiet.
I'm not one for drama, you don't get much of that in Orkney.
Sometimes I bump into tourists on the deck, they have their push-bike with them because they think they'll be able to cycle to their hotel.
Chances are, they are staying 20 miles or more out of Kirkwall.
I don't think Orkney is lacking in retail because we have a fantastic high street.
We don't really have chain stores, it's all independent businesses.
I think you tend to be more outdoorsy in a place like Orkney, you're more at one with nature.
June/July time is perfect because we get daylight right the way through our journey.
I like to think I'm doing my bit for Orkney, for our community, by bringing people back and forth.
I don't think I could live anywhere else.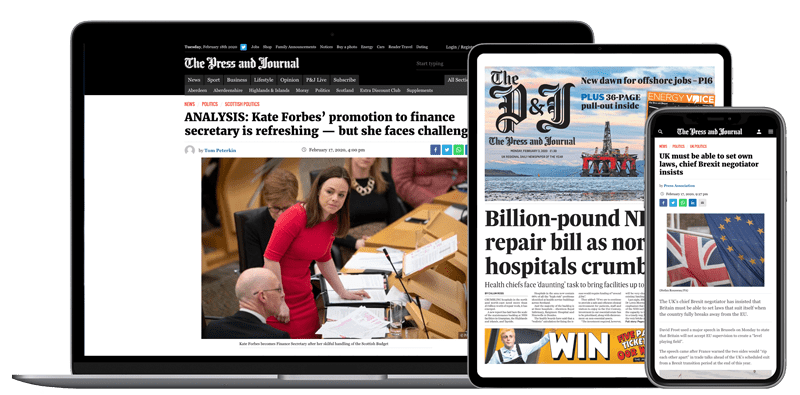 Help support quality local journalism … become a digital subscriber to The Press and Journal
For as little as £5.99 a month you can access all of our content, including Premium articles.
Subscribe