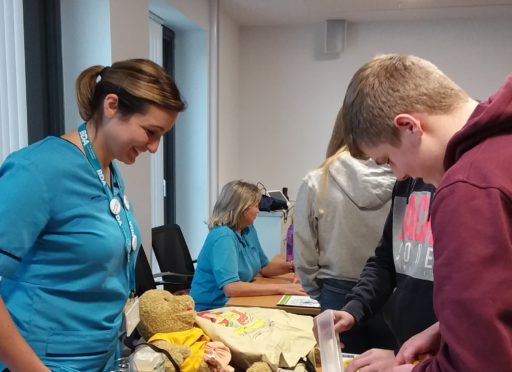 Dozens of school pupils in Orkney received an expert insight into life working in health and social care as NHS Orkney hosted a Day in the Life event.
The event, which took place at the Balfour Hospital, gathered 46 S3 to S6 pupils from the islands secondary schools to deliver a better understanding of what is involved in the various roles at the flagship hospital.
Pupils were able to speak to clinicians, learn more about their day-to-day roles and also try out some practical aspects of different professions including Dietetics, Podiatry, Speech and Language Therapy, Occupational Therapy, Radiography and Nursing.
The event, which is co-organised by NHS Orkney and Developing the Young Workforce (DYW), returned after the success of the event a year previous.
Rona Harcus, Practice Education Lead of NHS Orkney said: "Day in the life events are increasingly popular all over Scotland, due to their value in attracting young people to different health careers in the NHS.
"When facing national shortages of various health care professions and difficulties recruiting to rural areas, it is vital we promote the work of health care staff in local areas."
Rachel Scarth of DYW Orkney said she was "delighted" at the high turnout.
Fifth-year pupil Owen Griffith said: "I knew I wanted to be a dietitian, however now that I know more about what the role entails, I am more confident that this is the career for me."