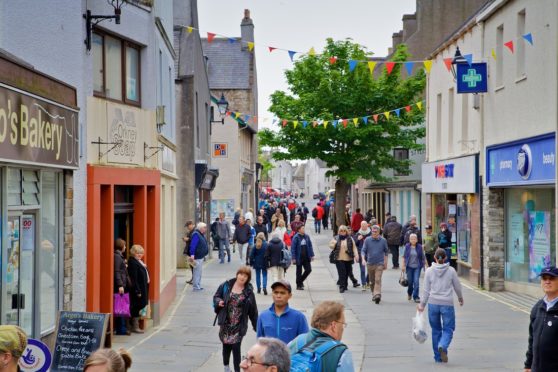 An Orkney community is celebrating success after securing the title of Scotland's most beautiful high street – as island towns triumphed in the public votes.
Kirkwall fought off stiff competition from Lerwick in Shetland to claim the coveted title.
In a month-long online poll, the town's Albert Street secured almost 5,000 votes from members of the public – 21% of the total – while Lerwick's Commercial Street was awarded second place with 18% of the votes.
Their success marks the third consecutive win for communities in the north and north-east after Forres in Moray was crowned with the prestigious title in 2017 ahead of Aberdeenshire winner Turriff last year.
Chairman of the Kirkwall Business Improvement District (BID), Duncan McLean, initially put the town forward for submission to celebrate the efforts made by the local community.
Speaking about the victory, he said: "We at Kirkwall BID are delighted that our town has won this very special award. It recognises both the beauty of the town's historic centre, and the efforts of local individuals, public bodies and voluntary organisations to make the town a wonderful place to live, work and socialise.
"Most importantly, it was the support of our community that won this award, and to know that the people of Kirkwall love and are proud of their town is the best reward of all."
The national competition is run each year by Scotland's Town Partnership, the national body for towns in Scotland – and environmental charity Keep Scotland Beautiful.
Phil Prentice, chief officer of Scotland's Towns Partnership, said: "I've seen first-hand just some of the innovation and forward thinking used in Kirkwall and it is a real demonstration of what can be achieved with creativity and determination."
"I want to warmly congratulate Kirkwall, and all of the worthy towns who were shortlisted."
Entries were judged on factors including horticultural achievement, environmental responsibility, and community participation before being shortlisted the vote.
Mr Prentice added: "It's no secret that our high streets have been under pressure for the past few years, but this competition gives us hope for the future. When people come together and take ownership of their places, great things can happen and big challenges can be overcome."