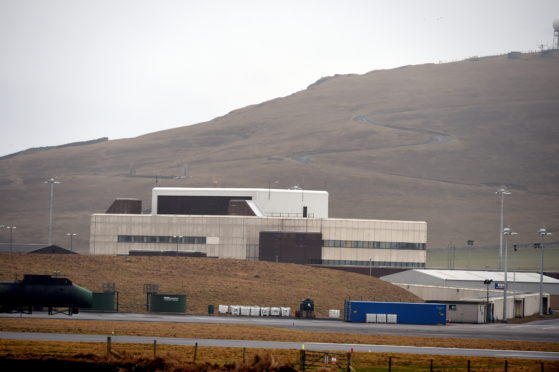 An emergency was declared earlier today as a helicopter destined for a North Sea oil platform was forced to divert to Sumburgh Airport after getting caught up in a lightning storm.
Shetland Coastguard Operations Centre was first made aware of the incident around 11.50am with the helicopter, an S92 aircraft operated by offshore transport specialists CHC, issuing a priority access notice to Highlands and Islands Airports Limited (Hial) who operate the Shetland airport.
A CHC spokesman said: "An aircraft landed safely at Sumburgh Airport this afternoon after requesting a precautionary priority (PAN) landing.
"The aircraft was flying to an offshore platform from Aberdeen when the captain suspected a lightning strike.
"Our crew followed standard procedure and diverted to Sumburgh Airport.
"The aircraft is now being inspected by engineers."
All members aboard, of which there were 15 passengers and two crew members, are reported to be "safe and well" following the incident, with the helicopter able to safely land at 12.10pm.
The aircraft is understood to have been caught in triggered lightning which is a form of lightning discharged from a deep convective cloud which tends to occur where there is little, or no lightning activity reported.
Between 1992 to 2010, typically one to two strikes were reported in the North Sea each winter season.
A coastguard spokeswoman said: "We received a call at 11.50am to reports of an airport emergency at Sumburgh.
"As the airspace surrounding the airport is over water, we deployed Lerwick lifeboat and coast rescue teams from Lerwick and Sumburgh to assist in the incident as per protocol.
"We would also usually deploy our search and rescue helicopter, Rescue 900 from Sumburgh, however, this was on another job at the time.
"The helicopter was able to land around 12.20pm and all is safe and well."
A Hial spokesman said operational staff at the airport were informed but were stood down as they were not required to assist.
Police Scotland was also informed of the incident.