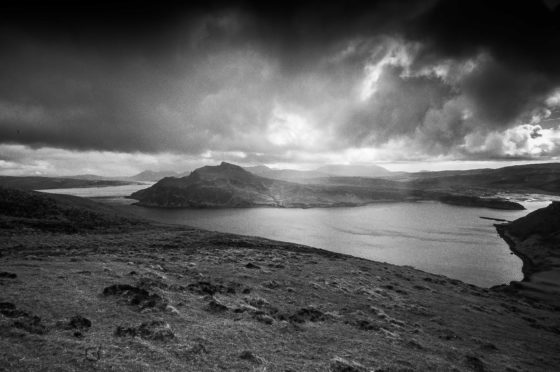 A book inspired by the late, great Gaelic poet Sorley MacLean has been longlisted for the Highland Book Awards.
The Spirit of the Hebrides combines the poetry of Kenneth Steven with photographer and Skye native Alastair Jackson's images of Skye and Raasay in homage to MacLean, one of Scotland's leading poets of the 20th century.
Mr Steven says his poetry seeks to connect the people, identity and spirituality of the land, illustrated by Mr Jackson's striking black and white images.
The book, which was created after an exhibition featuring the two men's work in 2016, has only been available for purchase since mid-2019.
However, it has made the cut from 88 to the 11 books that will battle it out for the Highland Book Prize.
The Spirit of the Hebrides visits many of the locations mentioned in MacLean's extensive works.
Mr Steven paid tribute to his co-author, whose idea brought the two men's work together to honour MacLean.
He said: "The whole purpose was to see the landscape of Skye and Raasay through the eyes of Sorley MacLean.
"When I was 16 years old my Gaelic teacher Finlay MacSween introduced me to the work of Sorley MacLean and it was around about this time I had just started to write myself.
"He had a great influence on me as a writer.
"He carried so much of the story of his forebears.
"If it leads to people discovering Sorley for the first time then it will be a roaring success."
Mr Jackson, who originally hails from Skye, was taught Gaelic by Mr MacLean's son-in-law, the late D R MacDonald, whom he has hailed for his early introductions to the famed poet.
Mr Jackson said: "It has all been a bit of a surprise for me as it is my first venture into the publishing world.
"It was really a bit of luck that brought Kenneth and myself together as he stayed in my mum's B&B.
"The book is really designed as a second-hand tribute to Sorley, influenced by him.
"It has been quite a shock to get down to the final 11 but a happy one at that. We are up against some big names but it is pleasing to know people have liked what we have done so far."
The longlist is expected to be whittled down by the end of February before the shortlisted few go head to head for the coveted prize.