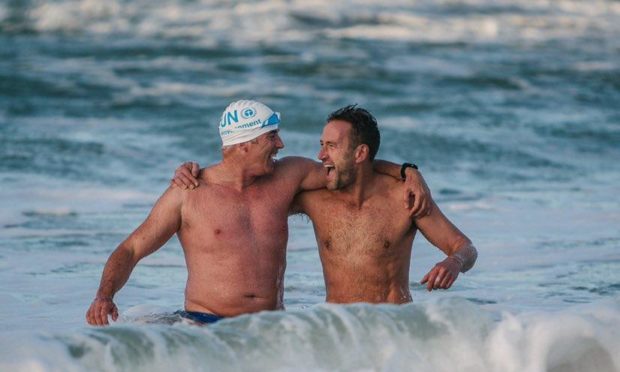 A world-renowned endurance has been preparing for an Antarctic swim – by practising in the Outer Hebrides.
Lewis Pugh, UN Patron of the Oceans,  has successfully completed his Lewis training camp by plunging into the icy cold waters on a daily basis.
Mr Pugh will later this month attempt to become the first person to swim across a supra-glacial lake in Antarctica, the area recorded as holding the earth's lowest recorded temperature.
Mr Pugh admitted the challenge is likely to be the "toughest swim" of his life, with his winter training camp off of the Isle of Lewis marked as the ideal preparation for the 1km (0.6mile) swim.
He said: "It has been an intense training camp that involved two training sessions a day, one at first light, and one at dusk.
"Conditions have been very tough, so perfect for Antarctica."
The purpose of the challenge is to call for the creation of a network of Marine Protected Areas (MPAs) around Antarctica.
Mr Pugh said he has no doubt that "we are now facing a climate emergency" adding the planet is changing at an "alarming rate".
He said: "I have been swimming in the ocean for over 30 years and I have seen them change.
"Ice is melting rapidly in Greenland and Antarctica. Coral reefs are dying. Rain forests are being hacked down. And Australia is on fire.
"We are facing an existential threat to life on earth."
He added: "2020 must be the year of action. Our futures will now be decided at the COP26 climate change conference in Glasgow in November.
"We cannot kick the can down the road any longer."
The islands off Scotland's west coast, with their rugged shores, cold seas and strong currents from the Atlantic Ocean, provided the ideal conditions for Pugh to train, with the camp involving swimming in both the sea and in mountain lochs, as well as supplemented training runs on the coast.
Temperatures in the sea fell to around 7C and were even more chilling in the lochs, with Mr Pugh and his accompanying members facing temperatures of just 4C.
The Antarctica challenge, which will involve water temperatures just above zero, a severe wind-chill and the threat of the lake suddenly emptying due to a crack in the ice, is scheduled to take place on Wednesday January 22.