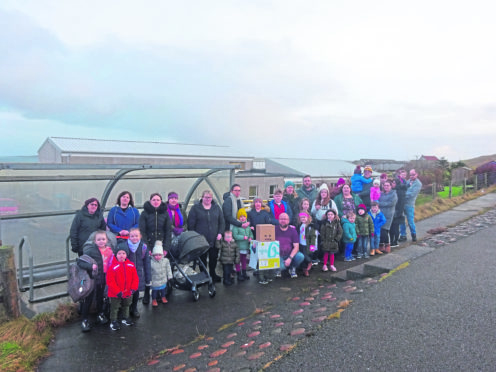 Parents and carers of children at a Shetland primary school have hit out at the council amid claims it withdrew a vital out of school childcare service without any consultation.
More than 60 concerned parents of pupils at Mossbank Primary School and Nursery have signed an open letter to Shetland Islands Council over the closure of Kidzone.
Parents have said the decision appears to represent a "box-ticking exercise" and has left many in an "impossible position" over childcare provision due to the sudden closure.
The service, which previously ran from 3.15pm to 5.15pm during term time, charged the hourly rate of £4.88 per child, with hours extended to cover from 8am to 5pm during holidays at a charge of £37 per child for a full day.
Parents say they were informed in mid-December that the club would close after the Christmas holidays. They claim they were told the service was not being used and there were staffing issues – both of which parents deny to be true.
The council's director of children's services Helen Budge met concerned parents in recent weeks. However, parents say the report constructed by Mrs Budge seemed to have determined its recommendations before the consultation, branding it "highly unprofessional" and "presumptuous".
Her report was due to go before the council's Education and Families Committee, but was pulled following the meeting with parents.
Parents have also said the closure of the paid-for service, which had been running for nearly 20 years, has also left doubts over whether or not some parents will be able to continue in employment due to the strains being placed on them following the closure.
As many as four Mossbank parents have already indicated they will be forced to leave their roles due to childcare worries.
Natasha Cornick, who has orchestrated the concerns of parents into the open letter, said yesterday that she hoped "common sense would prevail".
She said: "Our main aim over the last week or so is to have our childcare reinstated while a proper and fair assessment of the situation is carried out. However, this has been refused despite Mrs Budge knowing that this decision will likely lead to folk losing their employment in the intervening period.
"We are really frustrated that a whole system approach of the impact to families has not been taken by Shetland Islands Council and certainly no real thought has been given to the very real human impact they have caused.
"By removing our childcare facility, it means that parents will have to either give up work or cut their hours, and this will push more children into poverty with a likely knock-on effect of widening the attainment gap."
A spokeswoman for Shetland Islands Council's Children's Services said:  "We are aware of the concerns raised by parents, and are engaging in further discussions with them."