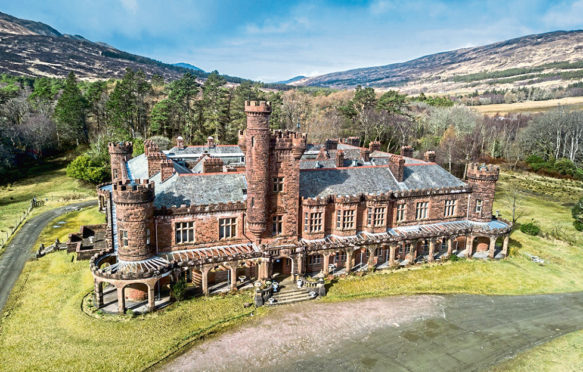 A community group hoping to save a remote Hebridean castle have held talks with heritage chiefs to further investigate taking it over.
Kinloch Castle on the Isle of Rum once served as a royal pleasure palace, but is languishing in a deteriorating state.
Its current owner Scottish Natural Heritage is keen to dispose of the castle.
But last year it rejected Kinloch Castle Friends Association (KCFA) taking ownership with a transfer of the property as a community asset amid concerns the group did not have the funds to maintain the castle.
Now, Historic Environment Scotland has held fresh talks with KCFA to find a solution to secure the future of the "important building".
A spokesman said: "We have been involved in discussions with SNH and the KCFA about options for the future of Kinloch Castle.
"Following SNH's decision on asset transfer, we will continue to discuss with them how best to secure the future of this important building."
It is believed HES is looking at reassessing the importance of the castle, which could help restoration efforts.
KCFA had submitted a business plan to support a community interest company take over of the 123-year-old castle where parties were attended by Edward VII.
The group believes it can turn it into a money-making attraction and wedding venue, and had proposed turning part of the castle into a 51-bed B&B and another area into a museum.
Catherine Duckworth, from KCFA, said: "We've put not just hours, not just weeks but months into this bid over the past couple of years.
"We will continue to fight for the amazing employment and visitor opportunities that the castle restoration will give to Rum."
Kinloch was highlighted on the BBC2 Restoration series in 2003 but despite attracting 143,000 votes, it failed to win the £3m prize towards the cost of restoring it.
But it caught Prince Charles's interest and following the programme he called a meeting at Birkhall, of interested parties, to investigate a possible £12m restoration package.
Charles visited the castle in 2006. Two years later his plans to rejuvenate the unique castle were drastically slashed by £2m.
The decision came after the then Scottish Government refused to contribute £4.5m towards the scheme, which also included luxury flats to help pay for the restoration. But Charles' project failed to materialise.