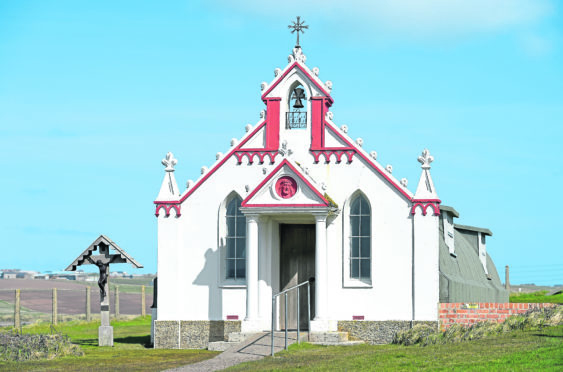 They were prisoners of war that left their mark for ever on a group of Scottish islands – creating an artistic masterpiece in the process.
Now the hunt is on to find the artefacts the men who built the iconic Italian Chapel left behind on Orkney.
Already a poignant hand carved wooden tobacco box in the shape of car has been discovered.
The Italian Chapel Preservation Committee has appealed for stories, letters and other objects that were made by Orkney's Italian POWs.
The items are wanted for an exhibition within the Orkney Museum, to mark the 75th anniversary of the opening of the Churchill Barriers – which the prisoners also built – on May 12.
The chapel was constructed by the prisoners during WW2, using scrap metal and leftover concrete to create a unique place of worship.
The prisoners were among hundreds of thousands of Italian soldiers captured in 1942 during the Allies' desert campaign in North Africa. More than 1000 were shipped to the islands from internment camps in Egypt. They formed two camps on Orkney – Camp 34 on Burray and Camp 60 on Lambholm.
Three of the prisoners – artists Domenico Chiocchetti and Giovanni Pennisi and blacksmith Giuseppe Palumbi – were the driving force behind the building constructed in 1943.
Sadly, The Italian Chapel has also suffered vandalism and break-ins, including the loss of three hand-carved wooden plaques more than five years ago.
Before the chapel was built Chiocchetti, produced a statue of St George fashioned from barbed wire and covered with concrete. The prisoners also worked to build a theatre and a recreation hut. But today the chapel and Chiocchetti's St George are all that remain of Camp 60.
John Muir, honorary president of The Italian Chapel Preservation Committee, said they are hoping to tell the POWs story through some of their other creations, like woodcarvings, jewellery and toys, that they would have made during their spare time and gifted to people they had befriended on the islands.
"We think there are many items out there. In fact one islander has already offered a wooden tobacco box in the shape of a car. There must be many other items out there in people's homes," he said.
"It will help give a new and fascinating insight into the lives of the men who built the chapel. We thought it fitting to host an exhibition of these items around the time of the anniversary.
"The chapel is in a remarkable state given that it is just nissen huts."