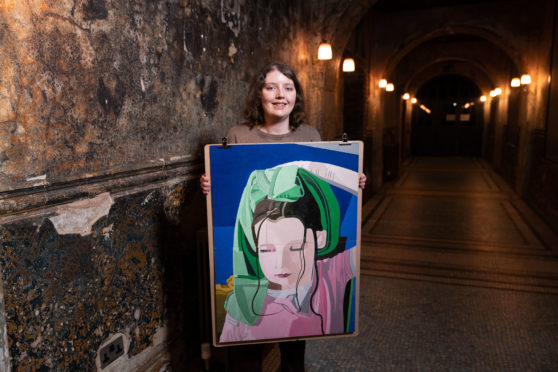 A young Stornoway woman is to star on the popular TV show Sky Arts Portrait Artist of the Year.
Eilidh Smith, 25, a health board office worker, is the first Hebridean to qualify and was successful on her first attempt to get in.
Her artist mother Margaret Ferguson was responsible for painting 100 portraits of sailors who died in the Iolaire tragedy, to commemorate its centenary.
Dr Ferguson, a retired GP, has entered four times and has not been successful – but she is delighted to see her daughter outshine her.
The prestigious Portrait Artist of the Year sees people compete for a £10,000 commission to paint a celebrity – this year the subject will be Nile Rodgers, who is to headline Belladrum festival.
Thousands of people photograph their work and email it to the show every year, hoping to be chosen to take part.
Each episode features a regional competition and contestants are challenged to produce a portrait of one of three famous sitters. An esteemed panel of judges select who moves onto the semifinal.
When three are remaining, the finalists will have their work displayed in the world-famous National Portrait Gallery in London. The winner will see their work become a permanent part of the British Library. Such famous sitters that are featured are Sir Ian McKellen, Sophie Turner, Sophie Dahl, Maisie Williams, Julian Fellowes, Alan Cumming and more.
The show starring Eilidh will be aired at 8pm on Tuesday, February 11. She and her mother travelled to the heat in Battersea where she competed with eight other artists. Her sitter was Doreen Mantle.
She said: "I submitted my application in February last year. The following month I received a phone call. It was funny because I picked it up and it was an accent I didn't recognise. At first I thought it was a cold caller. They explained they were calling from the competition to say I had been selected to go through to the heat stages.
"I was very excited. It was an experience I will never forget because it came totally out of the blue, it was totally unexpected."
The piece which got her in was a self portrait wearing a towel on her head, which was painted in oil. She named it Waterfall.
She first started painting aged 16. In summer 2018 entered Patchings Art Festival in Nottingham.
Her entry was an acrylic painting called "Ready for a Ceilidh" of an old couple next to a cooking stove, which won her the Daler Rowney Award.
Mother Margaret said: "It is fantastic. It's great to the see the youngsters coming through. Everybody in the house paints. She has her own style. Her dad Iain Smith is a retired art teacher."