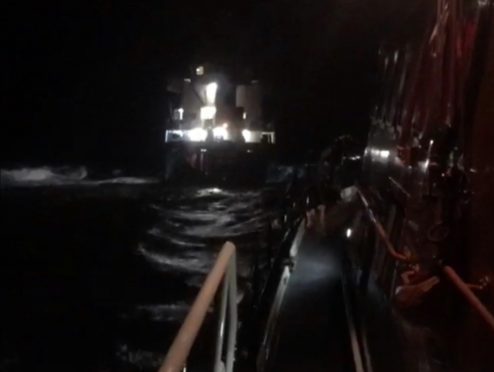 The abandoned large cargo ship ran aground on rocks between the Outer Hebrides and Skye.
The MV Kaami vessel, which was carrying Refuse Derived Fuel (RDF) in pellet form, is facing another day of battered by storms.
Salvage experts are to inspect the vessel but given current sea conditions in the Minch, any hydrocarbons are likely to disperse and break up long before reaching the shore.
There are hopes that once the weather subsides, it will be possible to boom around the ship to capture and recover any pollution.
The Highland Council is monitoring the situation and preparing for a shoreline response if this is necessary in the coming days.
The eight Russian crew of the 295-ft long ship were airlifted to Stornoway on the Isle of Lewis early on Monday after the baulkcarrier struck trouble in The Minch around 1.50am.
The SOSREP (Secretary of State's Representative) has been informed and is advising on the response, which is being led by the Maritime and Coastguard Agency (MCA).