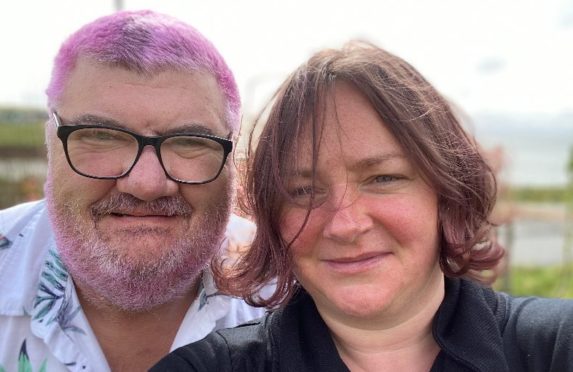 A Shetland couple have been overwhelmed by the public's support after they smashed their fundraising target to raise £8,000 for frontline workers.
Accordionist Peter Wood, 50, began uploading daily performances on social media in March as part of his "Tunes in the Hoose" segment to entertain people during lockdown.
As individuals from across the globe flocked to view his page, the couple decided to "give a little bit back" by raising £500 for NHS Shetland's Endowment Fund.
Within an hour of launching their fundraising appeal on April 19, they reached their initial target, with donations continuing to flood in.
And now, the fundraising pot is sitting at more than £8,500.
His wife Karen said the whole experience has "been a whirlwind."
She said: "We just wanted to do something to just give a little bit back and we hoped we could raise £500 for our local NHS endowment fund which covers everything out with government funding. It can be spent on staff, patients or for things for the hospital so we really wanted to do something at this time of crisis."
Fellow island residents have been leaving money at the couple's door and sending cheques.
Their cause has also touched the lives of front line workers over the pond, with a paramedic from New York City's Fire department reaching out to thank them for bringing light in a time of such adversity.
Mrs Wood added: "We have had messages from all over the world. A paramedic that works for the fire department in New York City has been on messaging to say thank you because they are working 16 hour shifts and are having a really tough time and they wanted to say thank you to Peter because they are really enjoying listening to his music. It's messages like that, that are keeping us going as well."
The couple are now aiming to supply patients and staff in wards at Gilbert Bain Hospital with iPads to help them keep in contact with their loved ones during the pandemic.
Mrs Wood, 42, said: "We have been so humbled and overwhelmed by the response we have had from people in Shetland. Shetland is such a close community, so it doesn't surprise us the amount of people that have come together because when times are difficult we come together.
"It's been just as good for us to have the support from everybody and all these lovely messages. It's just been brilliant. It's just brought so many people together and introduced us to all these people all over the world.
"We are so humbled and thankful, it's just been amazing."