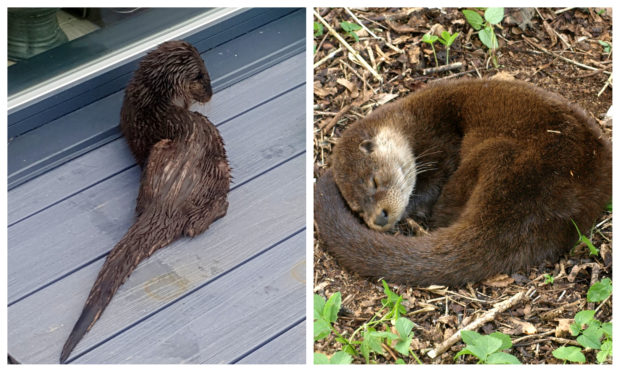 A hungry otter who surprised a gardener by perching on her leg is being nursed back to full health.
Margaret Matthew was weeding her garden in the Ross of Mull when she became aware of the little cub.
She said: "I couldn't believe my eyes. Then I thought, 'what's it doing here?' Something must be wrong."
The otter began making peeping noises before staggering about the garden and bumping into fixtures.
The otter was soaking wet with her eyes shut.
Identifying that the otter was clearly in need of a good feed, Ms Matthew fed her some fish and a hard-boiled egg.
"It was clear she was starving" she added.
"After tucking into fish fillets and a hardboiled egg the painfully thin otter stopped staggering around but keeled over and slept on the grass."
Ms Matthew, along with her son Matt Oliver and daughter-in-law Rachel Oliver, contacted Mull Otter Group where it was decided to attempt to reunite the cub with her family.
The trio departed for the nearest shore where the otter swam around before creeping into a thicket and sleeping for the rest of the day.
Ms Matthew left behind some more fish to ensure the cub was well-fed.
She returned at 5.30am the next day to check on the cub but did not see her. However, a few hours later Mr and Mrs Oliver called to say she was back in the garden searching for more food.
Mr Oliver, who is a scientist, analysed the otter's faeces for food remains such as fish scales or bones, but he only uncovered vegetable matter and seaweed.
Mull Otter Group decided it would be best to take the cub into care, arranged for her to be cared for at the International Otter Survival Fund's headquarters in Skye.
The six-month old, now named Bealltainn, will now be nurtured to full health at the otter hospital in Broadford before being released back into the wild.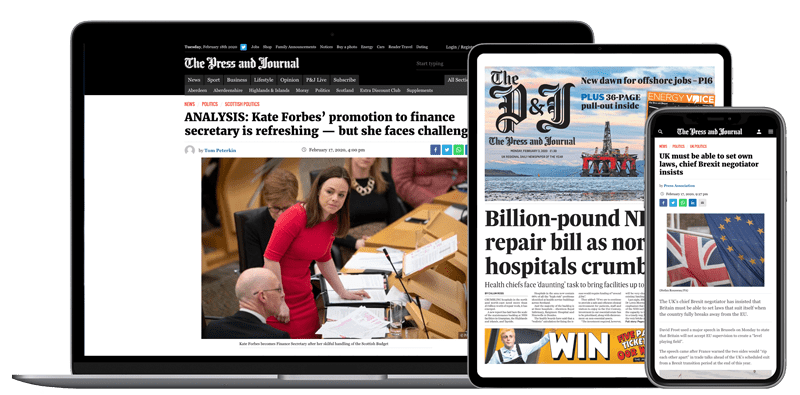 Help support quality local journalism … become a digital subscriber to The Press and Journal
For as little as £5.99 a month you can access all of our content, including Premium articles.
Subscribe