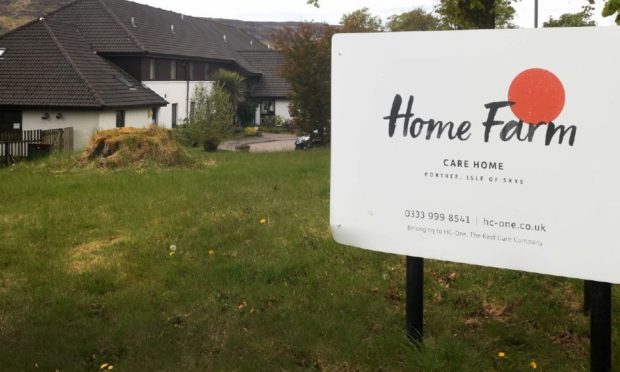 The family of one of the Skye care home victims claimed last night that the operators "don't deserve to be responsible for other human beings".
Colin Harris was one of 10 residents to die with Covid-19 in Home Farm Care Home, run by UK-wide company HC One.
The 66-year-old, who had dementia and Parkinson's, died on May 6.
Now his family has spoken of their anguish amid claims that prior complaints about his care were not followed up – and said if they had been, it might have had an impact on the current crisis.
Widow Mandie claimed the bosses of HC One made "poor management choices" which brought the virus into the home.
'Kind' granny, 103, is seventh death at Covid-hit Skye care home
Mrs Harris has been clear that she does not blame those providing immediate care for her husband, but said she felt both employees and residents have been let down severely by the care home operator.
Visiting family members found the father-of-two wet, causing sores on his thighs.
They claim that even though they complained, it was more than a week before any action was taken.
Mrs Harris said: "We picked up on little things that Colin's care wasn't at a level that it should have been, but that wasn't necessarily the staff's fault.
"The skin at the top of his groin and the inside of his leg had broken down and ulcerated because of sitting in wet pads, and that hadn't been noticed by staff.
"If they were in changing him they would have noticed a bit sooner but because they were rushed and there wasn't enough staff and they were having to do these things quickly, they didn't have time to pay attention to changing him properly and seeing this wound he had.
"In the end, Zoe, my daughter, had to go and buy steroid cream herself to out on it just to try and ease it because the messages weren't getting to the manager.
"Even when we did speak to the manager, he said he would get on to the doctor and get some cream prescribed but it just didn't happen.
"It was another week before they actually got any cream, in which time my daughter had gone and got some and we had started to treat it ourselves."
On another occasion, Mrs Harris found that her husband's dentures had not been glued sufficiently, coming loose when eating causing further distress and discomfort.
Mrs Harris alleged that there were often just two members of staff on overnight to care for upwards of 16 residents, putting them under huge pressure.
She added: "With all goodwill in the world, two people are not going to physically get around 16 people in enough time to have to go back round them a second time and not have any of them get wet or fallen over.
"Staff had said that to us that there are just two of them and the buzzers are going constantly in resident's rooms and they are darting back and forward.
"If there are two of them in providing personal care to the likes of Colin and somebody else's buzzer goes off, they can't leave Colin to go and see to the other buzzer if he is not dressed or not in his bed.
"They just can't do the impossible and that is the main issue, HC One was aware of the fact that they didn't have enough staff but weren't doing anything proactive to encourage more staff."
She continued: "Right from the very start, I have said I feel sorry for the staff and residents and I still feel like that.
"I honestly feel that both residents and staff have been let down by HC One.
"Ten residents have died and hopefully no more do, and fortunately no staff have succumbed to it.
"We firmly believe that it was down to HC One's poor management choices that the virus ended up in the home by them moving staff around, untested and bringing residents in and not knowing their status as far as the virus is concerned.
"HC One have let it in and let down all their staff.
"None of this should have happened."
Investigation launched as new Covid-19 case is confirmed on Skye
Mrs Harris accepts it is too late for her family and the families of others who have lost loved ones at Home Farm, but said she wants justice.
The Care Inspectorate is currently attempting to have the operator's licence for the Portree home removed, and both parties will return to Inverness Sheriff Court next month.
Mrs Harris said: "HC One need to be held accountable for their actions.
"The way they have conducted themselves is just not right.
"We need to prevent this from happening to anybody else.
"HC One don't deserve to be responsible for other human beings.
"We need justice for them so they have all not died in vain."
An HC One spokeswoman said: "Our thoughts and sympathies are with the Harris family at this difficult time, and with all families who have lost loved ones from coronavirus.
"We are continuing to make sustained and continued improvements across the home so we can deliver the very best for residents and colleagues at Home Farm.
"We look forward to continuing our strong and effective partnership with NHS Highland as we progress with our robust action plan."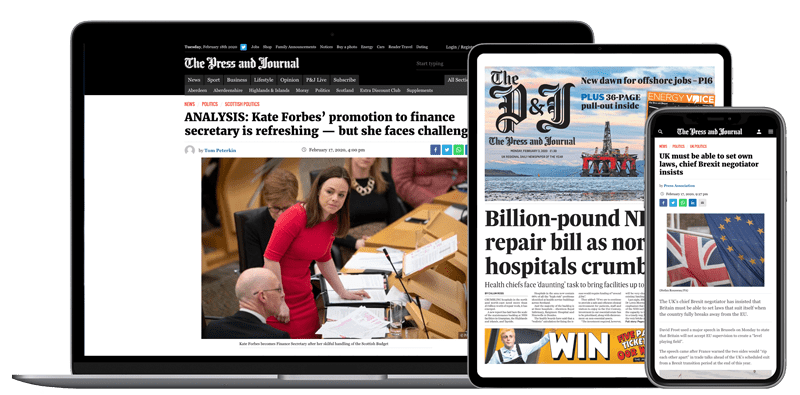 Help support quality local journalism … become a digital subscriber to The Press and Journal
For as little as £5.99 a month you can access all of our content, including Premium articles.
Subscribe