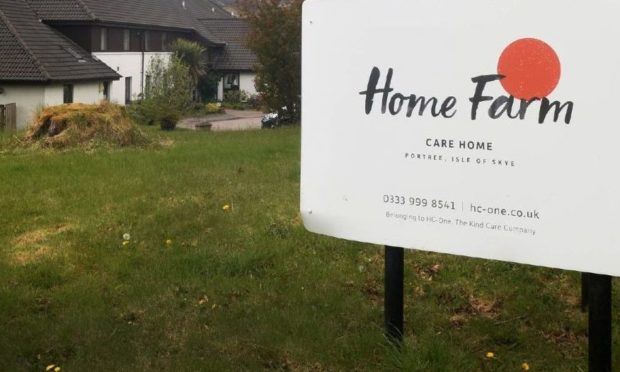 A member of staff at the Skye care home at the centre of a Covid-19 outbreak has tested positive for a second time.
Ten residents at Home Farm Care Home in Portree died earlier in the pandemic – but there had been no positive cases in 33 days.
NHS Highland confirmed the positive case yesterday after Skye MP Ian Blackford earlier revealed the new diagnosis via social media.
He said the staff member had "previously tested positive for Covid-19, recovered and was tested negative twice" before testing positive again.
Skye MP Ian Blackford claims staff member returns second positive Covid-19 result at Home Farm
The staff member felt unwell on Sunday and was re-tested. The positive result was confirmed on Monday evening.
The staff member has been advised by the health board to remain at home in isolation, with contact tracing underway.
Since the start of the pandemic, almost 30 residents at Home Farm tested positive – and more than 50% of the workforce has also been struck down with the virus.
The new diagnosis brought an end 33 days without any new cases at the home.
NHS Highland yesterday said all staff and residents in the care home would be retested.
A spokesman said: "Evidence is emerging internationally about Covid-19 and it is now recognised that some people have prolonged positive swab results and others can have intermittent negative and positive results over many weeks.
"An ongoing positive result does not therefore mean they are still infectious or that they pose a risk to others.
"This is the most likely scenario here."
Previously, the World Health Organisation (WHO) has said some people are testing positive more than once for coronavirus – but it doesn't mean they have been reinfected.
It is thought the positives could be down to "dead cells" emerging during the healing process of the lungs and testing positive.
HC One, operators of the home, yesterday said public health experts had reassured them that the positive test "is likely a result of the original infection and not due to reinfection".
A spokeswoman said: "Home Farm has had the highest standards of infection control over recent weeks" adding "we are confident we have done all we can to support this home in its recovery."
Local councillor John Gordon, whose father John Angus died in the home after contracting the virus, said there had been distress in the community yesterday as residents family members only found out through social media.
He said: "We keep getting reassurances from NHS and HC One that any developments are to be broadcast to families prior to the media and other sources, but it is still not happening.
"It is just not acceptable."
Mr Blackford said no risks could be taken, adding that the local community would be offering support to residents, their families and staff at a "distressing time for all".
A court ruling is expected today to determine the outcome of action brought against the care home operator by the Care Inspectorate.
Police Scotland have said their inquiries into the deaths of three woman at the care home, aged 84, 86 and 88, are ongoing.