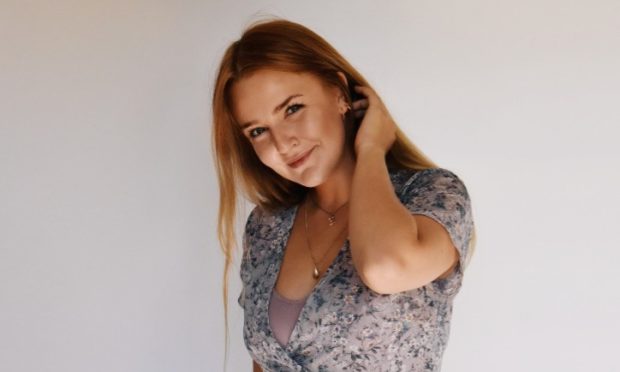 An Aberdeen student has created her own ceramics brand to help cancer charities throughout the north and north-east.
When Megan Davies was 11, her mum died from breast cancer and last year their family lost her grandmother to lung cancer.
But the artist has opted to use this heartache to drive her forward and support others.
She is planning to donate half the proceeds from her Jugs For Jugs range to cancer centres across the country.
Miss Davies developed the products as part of her final year of 3D design studies at Grey's School of Art, and is showcasing them at the institution's virtual degree show.
Each object was designed was cancer patients in mind, as they may struggle to maintain their independence when it comes to lifting heavy objects.
"Focusing on how the hand naturally interacts with the product, I created certain indents to help hold the jugs and encourage mobility," Miss Davies said.
"To be inclusive, I aimed to ensure the jugs could also simply be admired or appreciated.
"Once Jugs for Jugs becomes active, I plan to donate 50% of the profits to ongoing cancer centres which are providing the mental and physical help needed by thousands affected across Scotland."
Miss Davies, who is from Copenhagen but now lives on the Isle of Lewis, initially enrolled at Gray's to study jewellery making.
But she soon discovered a passion for sitting at the potter's wheel, and is also planning to open a family art gallery on the Black Isle.
She said: "Most of my work has been inspired by people, and I enjoy telling the story behind the product alongside the object because people tend to relate.
"Although this final year brought a lot of hardships, being reminded of my losses and dark periods daily because I had dedicated this project to my mother and grandmother, I look back and see a young woman who created a passion project for the strongest women in her life, while she herself became strong.
"It is much easier to say this in hindsight, but that is why I created my brand Jugs for Jugs – to become a helping hand to others during those moments and a guide towards the end of the tunnel."
The show must go on
Every year, hundreds of people flock to Gray's School of Art for a showcase of its graduating students' work.
But this year the event is taking place virtually, as the Robert Gordon University faculty has been forced to shut by the coronavirus pandemic.
Determined to let their proud graduates share their paintings, sculptures and designs with others, art school chiefs decided to take the exhibition online.
Collaborating with arts body Look Again, and design agency Design and Code, they set up a virtual art school with gallery space for each graduate.
All 161 students have been able to decorate their space as they see fit – with some opting for a more traditional experience, and others using music, fog and digital sunsets to enhance visitors' experience as they "walk" around.
A virtual quad has also been set up, which has hosted live DJ sets, webinars, Q&A sessions and other interactive events throughout this week.
Libby Curtis, head of Gray's School of Art, said: "Graduates of 2020 have suffered greatly in not having the usual facilities they imagined they would have to make their final work.
"They have had to leave their studios and workshops behind and create these in their homes.
"This virtual exhibition showcases not only our students' commitment to their practice, their professionalism, and of course the myriad forms of production, artefact, and ideas, it is in itself a show that celebrates their creative resilience and enterprise in the face of Covid-19."
The show closes on Sunday and can be accessed by visiting graysdegree.show.