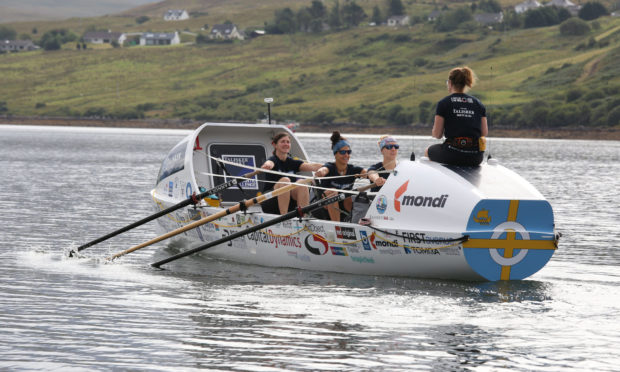 Four women have set out on a 440-mile row around Skye to help showcase an eco boat made out of thousands of plastic bottles.
The quartet from Bristol are preparing to row the Atlantic in the boat to raise money for the RNLI.
The group – known as The Bristol Gulls – will be the first to take on the Talisker Whisky Atlantic Challenge rowing in the one-of-a-kind boat, the core of which alone contains more than 10,000 recycled plastic bottles.
The team consists of captain Sofia Deambrosi, Phoebe Wright, Lorna Carter and Sarah Hunt.
The Bristol Gulls will be rowing 3,000 nautical miles across the Atlantic Ocean in December this year, with money raised going towards the RNLI and Clean Up Bristol Harbour – both organisations with a focus on sustainable oceans.
To prepare they are embarking on a six-day row around Skye.
The Atlantic challenge is an annual race that departs from La Gomera in the Canary Islands and finishes in Antigua and Barbuda in the Caribbean.
Around 30 crews from around the world take part in a range of crew sizes and the aim is to complete the crossing unassisted.
The Gulls will row in pairs; rowing for two hours followed by two hours off – when not rowing, they will sleep, eat, clean and catch up on jobs around the boat.
The women are trying to raise £45,000 to cover the costs of taking on the challenge – which covers essentials such as the boat, equipment, travel, insurance, and food.
Each Gull will need to take in around 5,000 – 6,000 calories a day, which will come primarily from freeze-dried or dehydrated meals.
The Gulls hope to raise £11,000 to cover the 2020 operational costs of Portishead RNLI.
The Skye row began at the weekend at Talisker Whisky Distillery and will be completed on Friday at the same location.
Rower Phoebe Wright said:"I couldn't be more excited for my first trip to Skye and to experience the beauty I have heard so much about from the water. I feel very lucky to have this opportunity and after all the planning and preparations that have been done, can't wait to get on the oars and row.
"Hopefully the weather gods are in our favour and we are able to get some good miles in, whilst sharing our love for the ocean and sustainability message with the people we meet.
"Thank you also to the support from Talisker Whisky, I'm excited to share a dram with the team when we complete the 440 mile row."