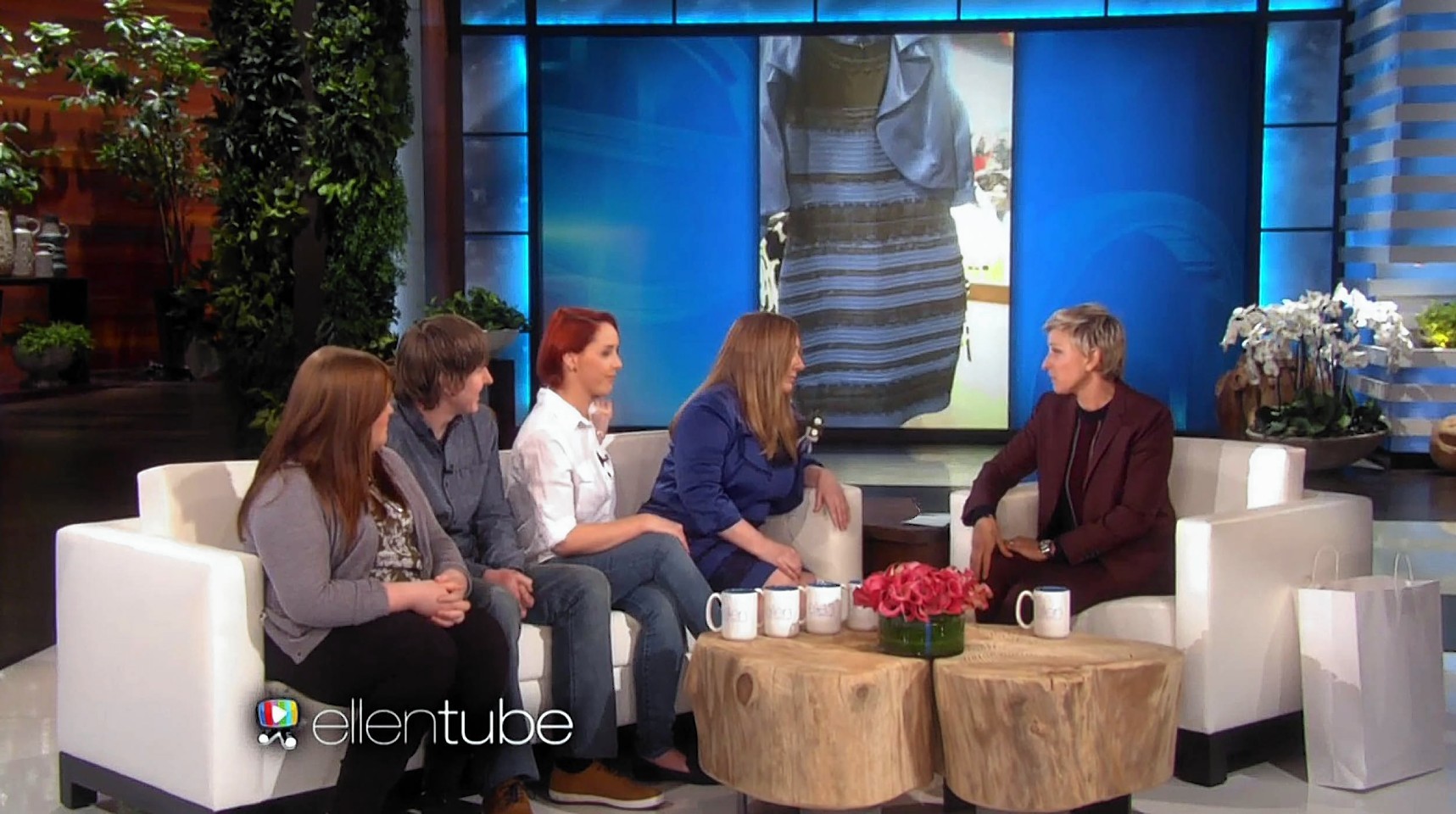 The owner of the world's most famous dress has revealed there were even rows in her house about what colour it is.
Cecilia Bleasdale bought the dress for her daughter's wedding, and admitted she has never seen it as white and gold.
She told viewers of the Ellen DeGeneres Show – which has an audience of 4.4 million – that she even argued with her daughter over the colour of the dress.
She said: "I've never seen gold and white – I don't get the gold and white."
She appeared on the show alongside daughter and son-in-law Grace and Keir Johnston, of Colonsay, who cut short their Jamaican honeymoon to talk about the bizarre worldwide obsession.
The newly-married Mrs Johnston said her mother had first sent photos of three different dresses to get her opinion on the right outfit.
"I said, 'So which one is it?' And she said, 'The third one'.
"I said, 'Oh, the white and gold one? And she said, 'No, the blue and black one'.
"I said 'No mum, that's white and gold. If you think it's blue and black you need to go to the doctors'. So we had a bit of a row."
Her husband – who saw the dress as blue and black – added: "Being such a small island my mum and dad live next door – we have an adjoining door. So I knocked on the door and there was my dad. I said 'What colour is the dress?' and he said, 'White and gold'.
"I thought they were playing a trick on me."
Caitlin McNeill, the 21-year-old musician from Uist who first uploaded the image of the dress online, also appeared on the show.
She said: "We have been arguing about it for weeks. It had been tearing the community apart – we were losing our minds.
"I thought I'd put it on Tumblr, sometimes it is good for that sort of science stuff."
Mr and Mrs Johnston were thanked for cutting short their honeymoon to speak about the viral photograph – with $10,000 (£6,500) and a holiday to Grenada.