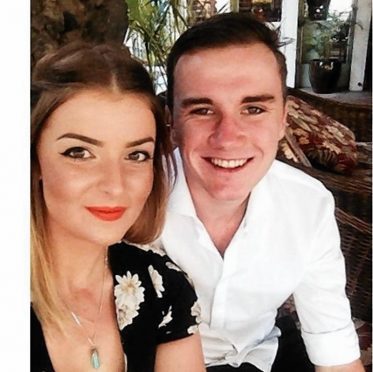 A 21-year-old Australian woman died yesterday after being hit by a car while hitch-hiking home with her boyfriend on Skye.
Maddy Rice had been enjoying a day off work with her partner Joe Perry when the tragedy happened near the Sligachan Hotel at 1.15am.
The couple were believed to be returning home to the luxury Kinloch Lodge hotel in Sleat, where they had been living and working.
The hotel owner said that the staff had been left "utterly devastated" by the death of the young member of their front-of-house team.
Isabella Macdonald, director of Kinloch Lodge, said: "It is absolutely heartbreaking.
"We are all utterly devastated at the tragic and sudden loss of Maddy.
"She was devoted to her wonderful partner, Joe, and our hearts, thoughts and prayers go out to him and her family.
"She was a wonderful and beautiful person as well as being an incredibly hard-working member of our team and we will miss her greatly."
Ms Rice is understood to be from Queensland, Australia, and Mr Perry from Auckland, New Zealand.
Since travelling to Britain, she is thought to have worked as a beauty therapist in London, before moving to Skye to work at the hotel.
The tragedy took place on the A87, the main road across the island, near the Sligachan Hotel at 1.15am yesterday.
Ms Rice was hit by a Vauxhall car. The man who was driving was uninjured.
The road was closed until 11am while police investigations took place.
A police spokesman said: "A 21-year-old woman pedestrian sustained fatal injuries following a collision with a Vauxhall car. The male driver of the car was uninjured.
"The road was closed whilst inquiries into the incident continued.
"Anyone who has information that could assist officers with their inquiries into the collision should contact Police Scotland on 101."
Councillor John Gordon, based at Portree, said: "It's sad that a young couple on a day off from work would end in such tragedy and it's hard to comprehend what her family are going through so far from here in Australia, but our thoughts and prayers are with them."
Skye Councillor Drew Millar, also based at Portree, said: "I heard there was a couple of people walking on the road. There is a little quarry about a quarter of a mile from Sligachan Hotel, I believe that is where it happened.
"It is another tragedy on Skye. In the last three weeks now two young people have been killed on the roads, in different circumstances, but with the same tragic end.
"The scene of the latest accident is on a good bit of road, the road has recently been resurfaced."
Just over three weeks ago, 24-year-old Portree woman Kirsty Johnston, was killed on the A87 Kyle to Uig road.
The Ford Fiesta she was travelling in veered off the road about a mile north of Broadford.
She was cut free from the wreckage of the vehicle by firefighters and airlifted to hospital but died later.