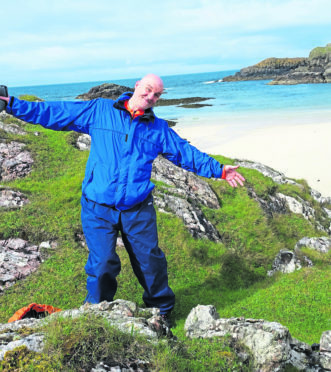 A man who was seriously hurt in a fall on a north island has been reunited with his rescuers.
Ged Dunsmore shattered his bones after tumbling off a cliff was forced to crawl 230ft from the rising sea tide to avoid drowning.
Mr Dunsmore was stranded for five hours after falling in a remote part of Iona and was only saved when a mystery dog-walker from America summoned the ambulance service.
Mr Dunsmore, 52, from Helensburgh, said: "I fell 30ft and was in agony – on top of that I could see the sea was coming in so had no option but to crawl to safety. I thought I was going to die.
"The American guy made an emergency call and within about half an hour, I was surrounded by various medics. I was lifted into a helicopter where I was taken to hospital."
The accident took place in September 2014 but he was recently reunited with the Ambulance Service's air crew, Julie Cathcart and Daniel Kerr. He's also hoping to track down his mystery American saviour.
Mr Dunsmore broke his pelvis, three ribs and his collarbone when he fell off the cliff. His ribs also punctured his lung.
Later he saw a pair of legs at his side, asking if he needed help.
Daniel Kerr described the rescue as a "complex" incident from a clinical and aviation point of view, saying it was a difficult position to fly into.
He said: "It was brilliant meeting up with Ged. What was miraculous about it was the fact someone else was walking their dog where no one else ever goes."