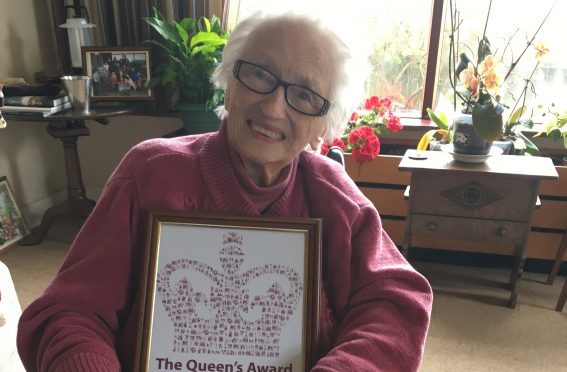 A unique charity shop in Orkney which funds a range of community groups has been handed a prestigious honour from the Queen.
The Blue Door, run by 94-year-old Rita Jamieson, has been given the Queens Award for Voluntary Service – the equivalent of an MBE for volunteer groups.
Mrs Jamieson founded the small shop in 2003 which supports a different group in the Orkney community each week, all year round, by allowing them to fundraise there.
Upon receiving the prestigious award, Mrs Jamieson said: "This is wonderful news. Who would have thought that our little shop in Orkney would be so highly thought of by the Queen.
"I am so pleased for all the volunteers who have helped set-up and run the shop over the years. They have been a great support to hundreds of local groups, and helped many thousands of customers. I am really proud of our volunteers and I hope that they are proud of their award."
Since the shop opened 14 years ago, it has raised more than £1.7million.
As an example of the wide range of groups supported, this month the beneficiaries including groups supporting traditional music, agriculture, autism, social support and a church preservation trust.
Groups apply, and if they are successful are allocated a week in the shop to sell goods and fundraise.
The shop is stocked on arrival, and the groups bring their own items to sell. A volunteer from the weekly group is present each shift to work with the core volunteers, who run the shop every week for different groups.
In a typical week, a group will raise between £2500-£4000 – but there is a two-year waiting list.
Eileen Spence, a regular volunteer in the shop, said: "This is really amazing. There is a superb team of volunteers at the Blue Door, but we just quietly go about supporting the different groups and helping our customers. We all get satisfaction out of helping people in our community. None of us look for any special recognition, which makes this award even more exciting."