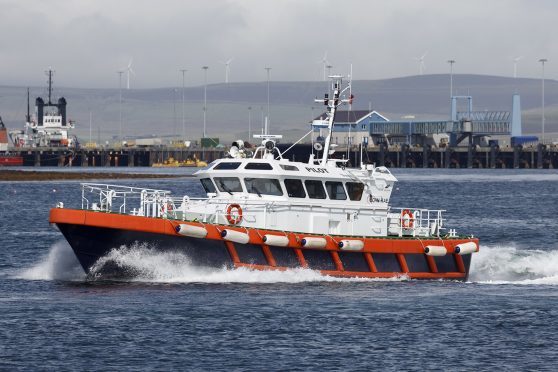 Orkney Islands Council has given its approval for the purchase of a new pilot launch to help guide ships in and out of the harbours at Scapa Flow and Kirkwall.
A £2million design and build contract is being advertised on the Public Contracts Scotland website.
The council's Marine Services team operate two dedicated pilot launches, which are based either in Scapa Flow or Kirkwall.
The pilot launches are essential to allow marine pilots to embark and disembark from vessels entering and leaving berths and anchorages within the Orkney Harbour areas.
These operations take place day and night in all weathers – the pilot launches need to be highly capable vessels built to high specifications of sea keeping and reliability.
The pilots' task is to use their extensive knowledge of local sea, weather and tidal conditions, and their extensive experience of handling ships of all types, to bring them safely into port, to anchorages and alongside piers. They perform a similar task when vessels are leaving their berth or anchorage.
The new pilot launch will replace the oldest of the current fleet, the Scapa Pioneer, which was built in 1993.
Brian Archibald, harbour master and head of marine services, engineering and transportation, said: "Orkney is benefitting from a significant upturn in harbour related activity and it is therefore essential that we continue invest in the equipment and vessels necessary to deliver a safe and efficient service.
"We provide a 24-hour, year-round pilotage service and this is an opportune time to replace our ageing pilot launch. The Scapa Pioneer has served us well but the time has come to replace her with a more modern, capable, and reliable vessel."