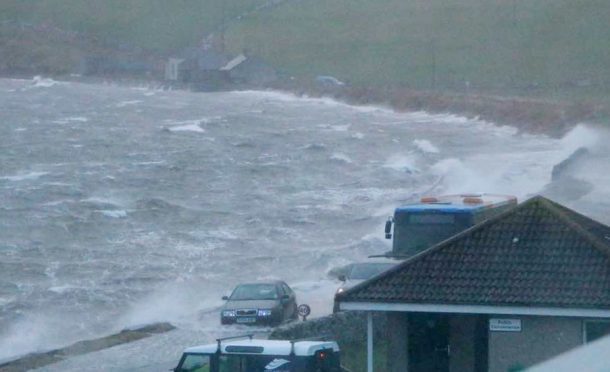 More than 30 youngsters on board a school bus in Orkney had a "lucky" escape when it broke down in Storm Caroline.
Huge waves broke over the sea wall and battered the bus.
The children who attended Kirkwall Grammar School were rescued by a 4 x 4 in a dramatic operation.
Travel chaos, schools closed: Brace yourself, Storm Caroline has arrived
Coastguards said it was not clear if the bus had got stuck because of the weather or suffered mechanical failure.
The 33 children, plus driver, were safely transferred to a Landrover and taken to a harbour authority building at Scapa. But all were safe and well.
The incident happened around 11.20am at Scapa Beach Road in Kirkwall.
Former long serving Kirkwall Lifeboat coxswain Geoff Gardens came across the rescue.
Storm Caroline: Power cuts reported across north of Scotland
"In all my years this is the worst weather I have seen for many a day. The children were very lucky," said Mr Gardens, 65, a coxswain of a pilot boat.
"The children were all fine, but the bus was rocking. The waves were breaking over the wall –  they were big.
Storm Caroline: Sandbags en route to Moray residents at risk from waves
"It took quite a few runs to get all the kids off – they were calm throughout. It was quite a bad place to break down – but I don't know if the bus stalled in the weather or by it. The road was very flooded there. It was some rescue."
A spokesman for Orkney Islands Council: "School transport was operating earlier than originally planned today after very strong winds and an accompanying tidal surge arrived sooner than had been forecast.
The bus driver did everything right to ensure the safety of the children on board as they waited for a back-up bus, which arrived in good time to take the youngsters home."
A spokeswoman for Stagecoach North Scotland said: "Due to adverse weather on Orkney we have suspended all bus services. The Kirkwall Grammar school bus this morning was unable to complete the journey due to flooding.
"We sent an alternative bus where Police Scotland assisted in safely transferring the passengers to the second bus. As a result of the weather we faced significant challenges operating our services today and will be carefully monitoring the weather in Orkney before reinstating any of our services."
All schools in Orkney were closed from 11.30am.
Meanwhile part of the arterial causeway at Tongue in Sutherland is said to have been damaged by strong waves.
The road is part of the North Coast 500 loop. The road was closed to traffic and the damage is being assessed.
Local Highland Councillor Hugh Morrison said the damage would not stop the road from re-opening once the storm abated.