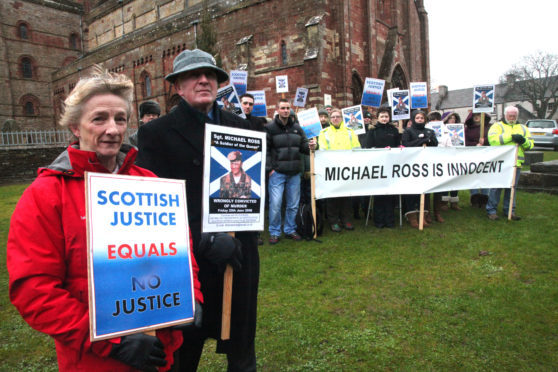 Campaigners battling to overturn the conviction of the man serving life for the notorious Orkney waiter murder have recruited human rights lawyers to fight the case.
The Justice for Michael Ross group – J4MR – has raised over £20,000 to employ specialist solicitors in an online crowdfunding appeal.
They hope to build a case outlining what they believe to be an "injustice" in the murder of Bangladeshi Shamsuddin Mahmood in 1994, when former Black Watch soldier Ross – whose family now live in Inverness – was just 15.
The married father-of-two, now 39, was jailed for life – with a minimum term of 25 years – in 2008 when a judge branded him a "vicious coward" in what was described as a race-hate killing.
Michael Ross attempted to flee court after murder conviction
Campaigners claim Ross, who is 5ft 7in, should be cleared as witnesses described the killer as being around 6ft.
Yesterday, a spokeswoman for J4MR said they had now raised enough money to employ human rights lawyers.
She added: "There is mounting public concern about the conviction of Michael Ross. We believe that this huge sum raised in respect of a potential miscarriage of justice is unprecedented in the UK.
"One of Scotland's foremost ruman rights law firms are currently familiarising themselves with the complex detail of this case in order to assess any potential progress that could be made."
The execution-style killing in Orkney's capital Kirkwall sparked the island's first murder inquiry in quarter of a century.
The spokeswoman for J4MR added: "The murder of Shamsuddin Mahmood was tragic and horrific. The conviction of Michael Ross, to many people in our community, is also tragic. It's a blight on our landscape and we can't allow this miscarriage of justice to be swept under the carpet.
"He has, at times, acted out of desperation and perhaps not helped his case for innocence in the eyes of many.
"Despite this, we must remember that he was a child of 15 at the time of the original crime and there is not one single aspect of the weak circumstantial case against him that cannot be discredited."
The ultimate aim of the group is for the human rights' lawyer to gather enough evident to submit an updated case to the Scottish Criminal Cases Review Commission (SCCRC) with a view to gaining a referral to the Court of Appeal.
They also want to submit a detailed complaint to the Police Investigations and Review Commissioner (PIRC) in Scotland.
The spokeswoman said: "This approach will give Michael the best possible chance of having his conviction quashed. There are no guarantees, but the goodwill and support Michael Ross has received has been incredible and it inspires us to push forward."
A spokeswoman for the Crown Office said: "We cannot comment as the case is closed and deemed historic."