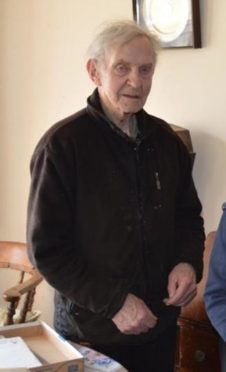 Police have launched an investigation to find out the exact circumstances that led to the death of James Mainland.
The body of the 88-year-old pensioner from Orkney was discovered yesterday in the Birsay area.
James Mainland disappeared from his home in Birsay almost two weeks ago with concern for his well-being growing ever since.
Chief Inspector Matt Webb said: "Our thoughts are with Mr Mainland's family and the local community at this very sad time.
Police inform family of missing 88-year-old James Mainland after a body is found in Orkney
"I would like to thank residents and our partners in the emergency services for their support during searches for Mr Mainland."
He added: "A police presence will be visible in the Birsay area over the course of today to allow us to establish the full circumstances which have led to this death.
"I would like to thank the community for their patience while this is ongoing."
Mr Mainland was reported missing on Saturday having last been seen at his home at 6.30am the same day.
At the time he left home he was wearing a blue body warmer, purple top, black trousers and brown slippers.
A major multi-agency search operation was launched in the area in a bid to trace the pensioner who suffered from dementia.
Among the agencies involved in the searches were police, coastguard teams as well as the fire service and even members of the Red Cross.
Together they managed to cover what was described by police as "an extensive area" but without success in locating Mr Mainland.
There were heightened concerns to trace his whereabouts because of his condition which is was feared could hide from members of the public.
The search was ramped up and an appeal was launched for the public to check outbuildings, garages and sheds even if they had already checked them.