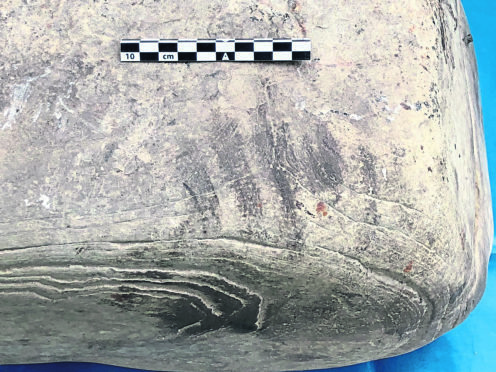 An "amazing contact" with Pictish times has been uncovered at an archaeological dig on the Orkney Islands.
The fingerprints of a Pictish coppersmith have been revealed by a team examining an anvil.
The site on the Island of Rousay is part of a substantial Iron Age settlement with a Pictish workshop and a Neolithic Chambered Cairn.
Archaeo-metallurgist Gerry McDonnell, from the University of Bradford team, used a scanner more commonly found in a laboratory setting.
Fellow researcher Stephen Dockrill said: "It allowed us to see all the traces of copper from the construction on the soil at the side of the hearth – the spray of tiny metal sparks.
"The analysis of the floor enables us to say with confidence where the smith worked, next to a hearth and two stone anvils."
But the best was yet to come when one of the anvil stones was removed to be sketched which involved cleaning it.
Mr Dockrill said: "The biggest surprise came when we lifted the larger stone anvil and cleaned it; we could see carbon imprints of the smith's knees and hands.
"The finger prints seem to be a mix of grease and carbon, you can see where his knees would have been and where he put his hand down, making the mark – it is such an amazing contact with the past."
He added: "It is very exciting. It is such a unique insight into the life of the building and tells a wonderful story."
Not only did the dig turn up the finger and knee prints but 50 crucibles used by the smith as well as a detailed understanding of the conditions he worked in.
Mr Dockrill said: "A smith would have needed darkness to operate to distinguish the colour of the hot metal by colour alone. The stairs go down and then turn a corner, so it acts like a light trap. Then the threshold stone where the door swung with a pivot."
Work on the remains of a brass and copper smithy is being conducted as fast as possible because it is subject to coastal erosion and could soon be lost.
Work this year has centred on the Pictish workshop and a Neolithic Chambered Cairn which is also being eroded.