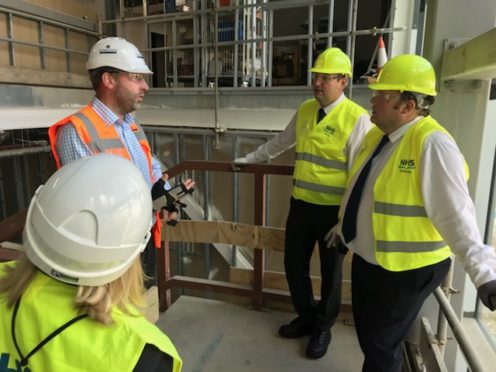 Shadow health secretary Miles Briggs visited Orkney to tour the site of the new Balfour Hospital situated in Kirkwall.
Mr Briggs met with Highlands and Islands MSP Jamie Halcro Johnston to visit the £64million facility which is set to open its doors next summer, securing the future and locality of healthcare services in Orkney for years to come.
Jamie Halcro Johnston MSP said: "The new Balfour is a vital project for Orkney, a major boost to local health services and is hugely welcome.
"It is testament to the efforts of the project team that this major public project is currently ahead of schedule.
"Looking to the future, as far as possible, key medical services must remain in the islands – or brought to the islands – so that local patients are not forced to endure lengthy trips to Aberdeen or, as we saw in the case last year of potential trips to Newcastle for local heart patients, even further afield.
"This fantastic new facility can be the catalyst to achieve that."
Shadow cabinet secretary Miles Briggs MSP said: "It was great to visit the new Balfour Hospital and to see how work is progressing. This is an important facility for Orkney as the NHS celebrates its 70th anniversary, but must be matched by solid year-on-year investment into frontline NHS services on the islands."