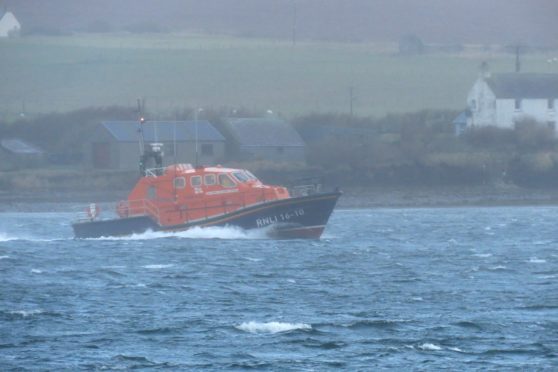 A man was rescued in the early hours of this morning after going overboard near the Crockness peninsula on Hoy in Orkney.
Longhope lifeboat and search and rescue helicopter Rescue 900 from Sumburgh were tasked to the scene to assist the stricken man after a Coastguard spokeswoman confirmed an initial report of the incident was received at 2.05am.
The spokeswoman continued: "At 2.05am this morning we received a spoken word Mayday reporting that a vessel had run aground with one person possibly in the water at Crockness, Longhope Bay.
"Longhope all-weather lifeboat and the Sumburgh Coastguard helicopter were sent to the scene.
"One casualty was safely recovered from the vessel – a 20ft Orkney longliner – and it was established that no other persons were in the water.
"The man is safe and well."
Attempts were being made this morning to refloat the man's boat with the Longhope lifeboat also attending to provide safety cover.
In an online post, RNLI Longhope Lifeboat said: "RNLI Longhope lifeboat was launched in the early hours of Friday morning at 2.05am. They were tasked by UK Coastguard to search for a vessel in distress that had sent out a Mayday call. The Coastguard SAR helicopter was also involved with the search.
"The lifeboat located the vessel, launched the Y-boat and rescued a person who was suffering from hypothermia. The casualty was taken to Longhope pier where a doctor and medical staff were in attendance.
"The lifeboat was ready again for service at 5.45am."