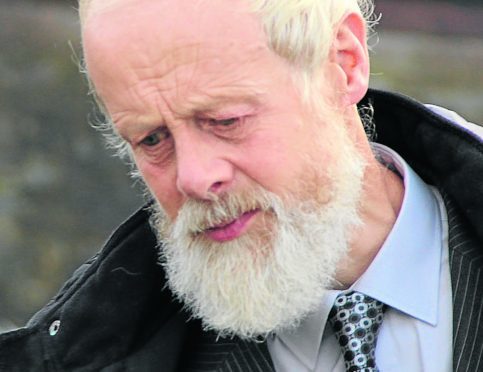 A man who subjected his wife to nearly three decades of "depraved and cruel" behaviour described as being at times "almost cult-like" has been sent to prison for more than two and half years.
Sheriff Philip Mann said Robert Simmons, 62, embarked on a "sustained and wicked campaign of abuse" against his wife.
At Lerwick Sheriff Court yesterday, Simmons received 32 months in custody, reduced from four years due to his early plea, and was given an indefinite non-harassment order.
Procurator fiscal Duncan Mackenzie previously said that the 11 charges admitted by Simmons, of Garth, Sandness, was "one of the worst cases of domestic abuse" he had ever dealt with.
He made his wife of 30 years carry a "mistake book", to-do lists and a "making progress" book. Mackenzie said police seized hundreds of them from their home.
The offences occurred between December 1988 and March this year. In one, Simmons repeatedly struck the woman on the head one Christmas Eve because she used raw eggs as she baked a cake. On various occasions in the 1990s, she was made to stand in an outbuilding as she was doused in cold water. Simmons also forced her into a car boot, compressed his wife's throat to the point where she was struggling to breathe.
The fifth charge saw the man repeatedly present a metal pole at her after grabbing her by the hair, while the sixth saw him seize her by the hair and throw her to the ground.
One offence saw the woman be made to lie down on the floor before Simmons placed his foot on her head, giving her two black eyes.
In two more charges, the complainer was pushed to the ground and struck on the head.
The tenth charge saw Simmons hit her in the back of the legs with a plastic pipe and the last one saw saw him shout, swear and utter threats.
Defence agent Tommy Allan said Simmons acknowledged that he "did wrong" and "sees things differently now".
The solicitor said while "violence is never justifiable in a relationship", his client became "frustrated" with communicating with his wife and suggested that Simmons may have some issues with obsessive compulsive disorder.
Sheriff Philip Mann said that the catalogue of offences "degraded and devastated the woman" who he should have "promised to love, cherish and obey" when he married her.
Taking everything into account – including the public interest and sending out the message that "domestic abuse will not be tolerated" – the sheriff said there was no alternative to custody and added the order.
Anne Marie Hicks, National Procurator Fiscal for Domestic Abuse said: "Robert Simmons' violent and controlling course of conduct, which endured over a period of decades, has caused his victim untold distress.
"Violent and abusive behaviour, such as Simmons' is never acceptable and we strongly encourage anyone who has been a victim of any such offences, no matter when they occurred, to report this to the police."
Detective Inspector Andy Logan of the Public Protection Unit said: "Robert Simmons is a controlling individual who submitted his victim to sustained abuse and suffering over the course of decades.
"The suffering he inflicted is deplorable and I would like to pay tribute to the strength of character shown by his victim in coming forward and ultimately helping to bring Simmons to justice.
"Although it does not change anything that happened, I hope that the people affected by Simmons deplorable behaviour can take some comfort from the verdict and continue to move forward with their lives.
"This was a complex investigation involving local officers and specialist support from the Public Protection Unit.
"I hope that the conviction of Robert Simmons demonstrates that Police Scotland will robustly and sensitively investigate domestic abuse crimes, no matter the passage of time. It is certainly no barrier to justice."