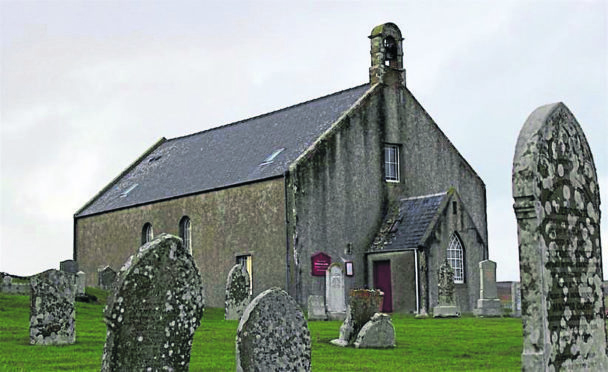 Mourning families face lengthy trips for funeral services of loved ones – and will be forced to host some in public halls – following the shock announcement of Kirk closures across Shetland.
They will also have to travel further for weekly Sunday services, while people hoping to wed in their local community will have to find other venues further afield.
While islanders can still be buried in local cemeteries of their choice, there is concern being voiced about where services will be held following the Church of Scotland's decision to close 20 of its 31 churches on Shetland, including on the islands of Fair Isle and Foula.
Church of Scotland to close two thirds of its churches in Shetland
For a resident on Fair Isle seeking a service at a Church of Scotland kirk they would have to fly 57 miles to Tingwall then travel another five miles by road to Lerwick.
There are ferries to Sumburgh or Lerwick – a distance of between 30 and 50 miles.
Foula residents would have to fly 28 miles to Tingwall and then also head to Lerwick.
---
>> Keep up to date with the latest news with The P&J newsletter
---
Shetland Islands Council convener Malcolm Bell said: "The Kirk closures are a shame for the folk who use them but are an inevitable sign of the times.
"Burial grounds are the responsibility of the local authority and nothing there will change, but the funeral service itself might, once the closures take effect, have to take place elsewhere, for example in another Church of Scotland, the church building of another denomination or a village hall.
"I hope and expect the folk affected by these changes will be able to collaborate with and make use of the many other community assets in their areas."
North Isles Councillor Duncan Simpson said: "Unless some community-led initiative happens, they will probably have to use their halls. I imagine there will be some concern about funerals."
Ryan Taylor, another North Isles councillor, said: "The impact falls heaviest on those who use the kirks themselves week in week out, and for those people it is a real shame."
"However, as time goes on, peoples' habits and accessibility to kirks changes and we can't forget most of these churches were built many decades ago where accessibility was poorer."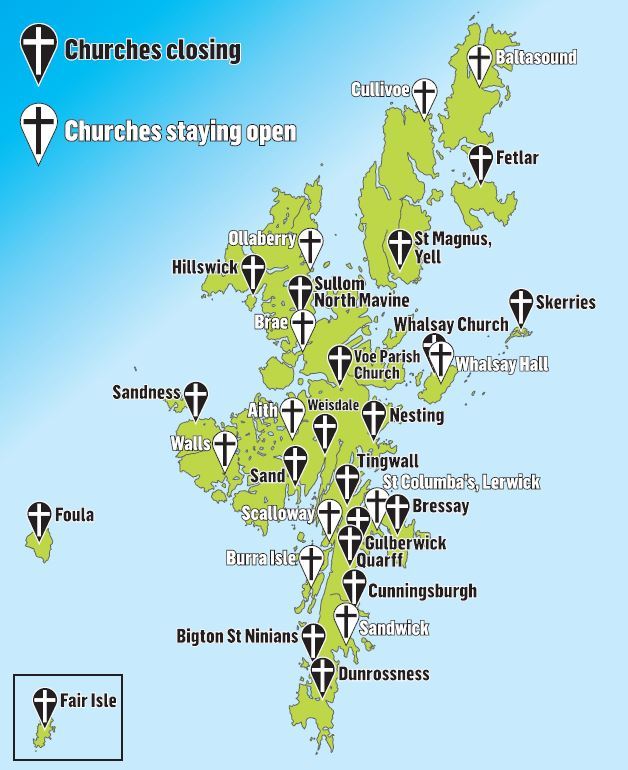 CoS Rev Ian Murray said the church had too many buildings on its books in Shetland, adding: "The presbytery has a legacy of many more church buildings than they need and has faced some difficult choices on which buildings should be retained and which should be let go.
"At the heart of our decision making is the desire to see a sustainable future for the Church of Scotland, its mission and pastoral care for the whole of Shetland."
"We are facing a crisis in the church, and we've got to trim back."
---
Two of the Church of Scotland kirks facing closure in Shetland are among the oldest in Scotland.
Dunrossness and Tingwall were built around the 1780s and 1790s and both still have cemeteries in use.
Parishioners will need to travel further afield to attend a Sunday service, while those wishing to be buried or wed there will have to have services elsewhere.
Tingwall opened its doors for worship in 1790, although there was a church there from the 12th century and remains can still be seen.
The Dunrossness church also opened around 1790.
Author Sir Walter Scott visited the area in 1814 and is understood to have written the novel The Pirate with its settings mostly in the parish.
Robert Stevenson built Shetland's first lighthouse at Sumburgh Head in the parish in 1821.His son Thomas Stevenson and grandson, the author Robert Louis Stevenson, visited in 1870.
One of the most famous names in the Dunrossness kirkyard is that of Betty Mouat.
The spinner and hand knitter gained fame in 1886, at the age of 59, when she found herself alone in a boat and drifted across the North Sea to Norway.
She was the sole passenger on the Columbine, sailing from Grutness in the south of Shetland to the capital Lerwick, where she planned to visit her sister and sell some knitting.
The weather on that January day turned bad and the skipper was washed overboard. The two other crew were to rescue him, but could not manage to return to the Columbine.
While they returned safely to shore, Betty survived for nine days at sea before the boat ran aground at Lepsoy on Norway.  She returned to Shetland and Queen Victoria sent her £20 for her suffering.
She died 32 years later, 100 years ago. in Dunrossness, aged 93.