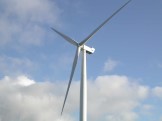 The Supreme Court will deliver its verdict on plans for a controversial windfarm at Shetland on Monday.
Sustainable Shetland is fighting a decision by Scottish Ministers to approve the 103 turbine Viking windfarm.
The long-running legal wrangle began when Sustainable Shetland brought a judicial review against the Scottish government's decision in April 2012 to grant consent for the windfarm, which is jointly-owned by Shetland Charitable Trust, Scottish Southern Energy and four local businessmen.
The Court of Session upheld Sustainable Shetland's appeal, with Lady Clark of Calton ruled that planning consent should be set aside, ruling that a licence-holder, or someone with an authorised exemption, could make such an application under the terms of the 1989 Electricity Act.
Lady Clark's ruling also found that Scottish ministers did not take sufficient heed of the 2009 EU Wild Birds Directive, and specifically the impact on 290 breeding pairs of a rare wading bird, the whimbrel, on Shetland.
Last summer that was overturned by the Inner House of the Court of Session, which said ministers acted lawfully in giving the project consent.
The government appealed the decision and three judges in the Inner House of the Court of Session in Edinburgh overturned the original judgement to let the windfarm go ahead.
Sustainable Shetland decided to pursue the case to the Supreme Court after gaining a protected costs order in November last year.
It means that their costs in the case are capped at £5,000.
A hearing was held at the Supreme Court in December.
No one from Sustainable Shetland was available for comment.
Viking Energy Partnership declined to comment.
A Scottish Government spokesman said: "The Viking consent was subject to appeal to the Supreme Court in December. We await the outcome of that appeal."