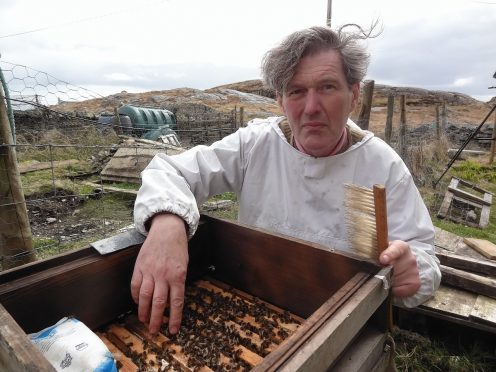 Police are investigating the mysterious theft of thousands of very rare black bees stolen in the Western Isles.
The two hives on Harris were part of efforts to save the threatened native European honeybee species, generally known as black bees due to their dark colouring.
Estimates put the loss around £1,000.
Beekeeper Gavin Jones believes his hives, kept in the remote village of Manish in eastern Harris, were deliberately targeted.
He was off the island caring for his dying father when the thieves struck.
The 56-year-old said his stolen stock was a vitally important genetic resource in the drive to stop the species becoming extinct.
Since the last Ice Age, the European dark honeybee was the dominant bee in the UK until it was nearly made extinct by disease brought in by imported Italian bees.
Now only a handful of isolated spots in the far north of Scotland and offshore islands are free from the Varroa parasite which afflicted the native black bee.
Mr Jones is "upset" at the theft after trying to increase their numbers after seven years and breeding a local subspecies of high purity tough enough to stand up well to the Hebridean climate, flying in rain, wind and poor weather to forage in moorland and exposed terrain.
The total number of bees stolen is estimated at around 2,000 – but the swarm would of multiplied to more than 10,000 during the summer.
He said: "I think they were specialist black bee thieves. I've had breeders turning up here offering me good money for nucleus I just don't have to sell.
"There's not that many people breeding at this level of purity and they can't keep their stock clean (due to disease and cross-breeding with Italian bees) but we can here.
"It is so hard to breed black bees up here and I had something that was useful for the whole world."
The beekeeper was backed up Dr Alan Bowman of Aberdeen University who is involved in bee research
The senior lecturer in biological sciences said: "To me, this seems to be targeted – not random.
"Its rather completely baffling for what purpose they were stolen."
A police spokesman said a family friend last saw the hives on March 14 but they were missing when he returned to check on the property two weeks later.
Police officers checked with neighbours but no-one recalled seeing anything suspicious in the scattered crofting village.
The spokesman said inquiries are ongoing and anyone with information should call police on 101.