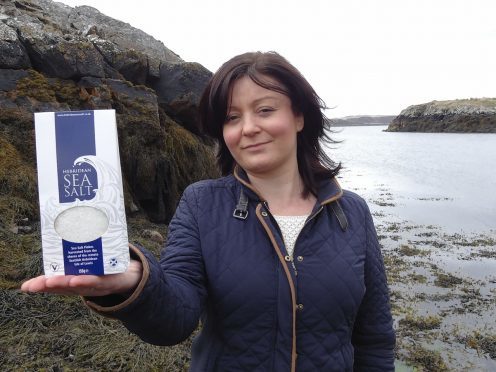 A successful sea salt business in the Western Isles is under investigation as food standards officers said it put Scotland's great reputation for food and drink at risk.
Natalie Crayton became a poster girl for rural business when she set Hebridean Sea Salt, which claimed to source its product from a particular island loch.
But a government agency said yesterday that 80% of the bespoke product, recommended in recipes across the country, was imported table salt.
As an investigation into the business continues, government agency Food Standards Scotland (FSS) yesterday took the unusual step of making comment, accusing the firm of "unacceptable mis-labelling" that could deceive consumers.
A spokesman said: "We would not normally disclose the details of an active and ongoing investigation.
"However, we believe it is now in the public interest to disclose the issues that are under investigation.
"This is not simply a case of mis-labelling. Investigations discovered that over 80% of the salt found in Hebridean Sea Salt did not originate in the Hebrides but was imported table salt.
"It is our view that, whilst this is not a food safety issue, deception of consumers on this scale is not acceptable and could damage Scotland's well deserved reputation for high quality, authentic food and drink products."
Edinburgh-born Miss Crayton, who studied marine biology at university, could not be contacted for comment yesterday.
But she has previously been reported as saying the investigation was "unnecessary and heavy-handed" and said she had done nothing wrong.
The company – Scotland's first salt producer – was established in 2011 after Miss Crayton could not source a locally-produced salt to use in her cooking.
At one stage it was producing 2,000 packets of "100% natural salt" per day, drawing its purity from the Scottish Environment Protection Agency-certified waters of Loch Erisort.
The product was endorsed by Michelin-star chef Andrew Fairlie and AA Rosette winner Mark Greenaway and has been used in some of Scotland's most prestigious restaurants.
Development agency Highlands and Islands Enterprise (HIE) invested £147,405 in the company between 2011 and 2015 to help develop the business.
Both HIE and Western Isles Council have declined to comment on "an ongoing investigation."
The company, at Habost on the loch shore, last year won a £180,000 deal to supply sea salt to 360 Sainsbury's stores. Ms Crayton described it at the time as "a turning point for the company."
One islander said: "She is hiding at the moment because it is very distressing for her."
Hebridean Sea Salt previously reportedly said it only added additional salt to its products in line with widespread industry practice.