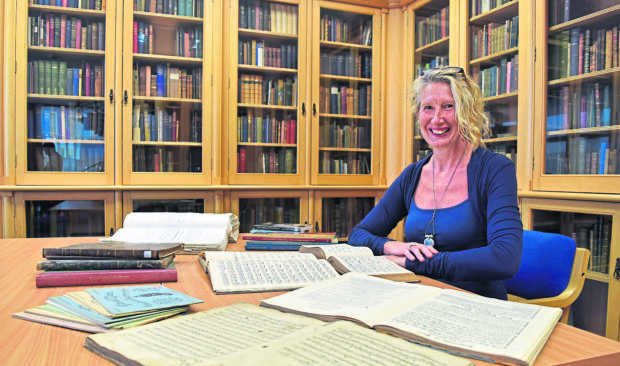 An extensive collection of papers, correspondence and music books belonging to a renowned piping scholar has been gifted to Sabhal Mor Ostaig college library on Skye.
The executors and family of Professor Roderick Cannon have made the donation three years after his death, making an invaluable addition to the College's research resources.
Predominantly relating to the Highland bagpipe, his research also covered in great depth each type of bagpipe played in Britain and Ireland, including the Northumbrian and Irish Union pipes.
The collection includes not only original manuscripts, but a vast array of documents and correspondence from over half a century of research. Printed works include some of the earliest publications of bagpipe collections of music.
The professor of chemistry, born in 1938, was born in Lancashire and devoted a lifetime of research to bagpipe music, making an outstanding contribution to modern-day knowledge of the instrument and its music.
Amongst his publications was the remarkable Bibliography of Bagpipe Music and The Highland Bagpipe and its Music.
He also painstakingly researched and edited the manuscript collections of Joseph MacDonald and Donald MacDonald, and the MacArthur-MacGregor collection.
College librarian Christine Cain said: "We are extremely grateful to have been gifted such an important collection.
"Gaelic and piping are intrinsically linked – indeed, Roderick himself acquired a thorough working knowledge of the language to aid his research work – and the material represents a significant addition to the Library's holdings and will be of great interest to students, researchers and the general public."
Professor Hugh Cheape MBE, Sabhal Mòr Ostaig senior lecturer and fellow researcher with Prof Cannon, said: "This is a collection without equal in the world of scholarship with research opportunities for students and performers into every aspect of piping in Scotland and furth of Scotland.
"Having benefitted in my own work from Roderick Cannon's scholarship and friendship for many years, I am deeply moved by his family's wish to place the Collection in Sabhal Mòr Ostaig. The value added to our library and research facilities is beyond price."