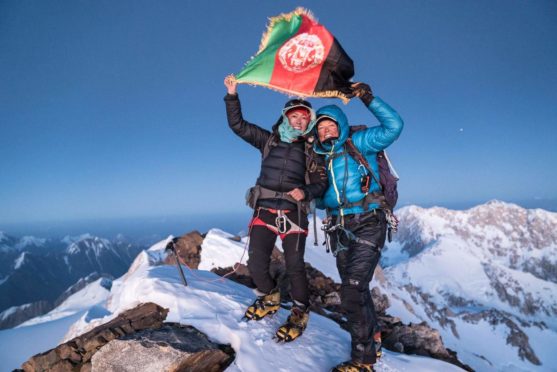 She was the island hero killed in a kidnap rescue mission in Afghanistan eight years ago.
And Linda Norgrove's legacy is still making a mark in the country where she worked and died.
A 24-year-old Afghan woman has become the first female to scale Afghanistan's tallest mountain thanks to a project supported by Western Isles based charity, the Linda Norgrove Foundation.
The Foundation was set up to honour the legacy of the kidnapped aid worker who was killed aged 36.
Her parents Lorna and John have since raised more than £1million to aid women and children affected by the war in Afghanistan.
Now, Afghan woman Hanifa Yousoufi has become the first woman to scale the countries tallest mountain Noshaq, standing at 24,580 feet, after being aided by US-based charity Ascend, which has been funded by the Linda Norgrove Foundation.
Over the past three years, Ascend has provided projects aimed at empowering women in the Middle Eastern country.
Lorna Norgrove, mother of tragic Linda, explained their support for Ascend: "We were hugely impressed by what this project is doing for women's empowerment in Afghanistan. News of their achievements has already reached more than 4 million Afghan women and the project is changing the lives of these young women for ever.
"I think the project particularly resonated with us because as a family we are all keen hillwalkers and both John and I were keen rock climbers. We know Linda would have loved this project and we're sure that it will appeal to the many people in the UK who enjoy climbing the hills and mountains. We take for granted the freedom to climb the hills, but this is something which can change lives for these young women in Afghanistan."
Ms Yousoufi joined Ascend's ranks after being rescued by a family member from an abusive marriage to an older man, which took place when she was just 15 years old. Afraid of being tarnished with the social stigma of being a divorced woman, Ms Yousoufi was refined to spending the next two years of her life in a single room of her family home. Her life changed when a relative took her along to Ascend where she learnt how to read and write before taking on the mammoth challenge in August of scaling her nation's highest peak.
Marina LeGree, Ascend's founder, said while ongoing conflict poses challenges, "the girls' courage and dedication make it a privilege to keep moving forward."
As well as providing the opportunity for members to scale the peaks of Afghanistan, Ascend also offers classroom work alongside the many months of intense physical training, with these designed to assert what it means to be a leader and a role model, as well as equipping members with the relevant skills to work together as a team.