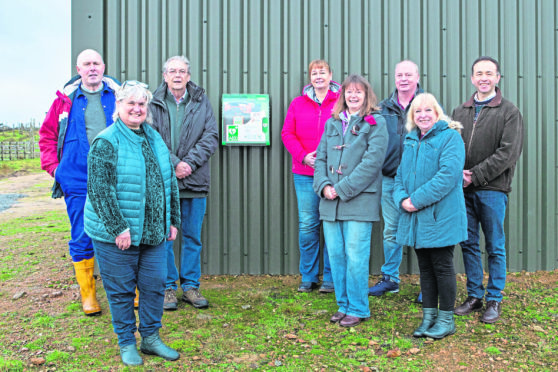 An island community has come together to create their own "shock squad" to deliver and operate the village defibrillator.
Like many other villages, Sheshader, in Point on Lewis, has its own defibrillator – but it also has a telephone hotline for summoning the lifesaving equipment and a neighbour who is fully trained to use it.
Money from Point and Sandwick Trust helped fund the acquisition of the defibrillator and the installation of an emergency telephone system.
Using the special number – 01851 808404 – anyone in Sheshader can make an alarm call and summon the defibrillator to be brought by one of the volunteers who knows how to use it.
Mike Shailes, chair of the Sheshader Amenities Association, explained that the number would alert the 'shock squad' – the 10 villagers who have been trained to use the defibrillator, kept on the outside wall of the village shed – that someone needed help.
The call automatically goes through to all 10 and the first to respond will take it to the casualty.
Mr Shailes explained: "For every minute that passes after a cardiac arrest without successful treatment, chances of survival decrease by 23%. Given that an ambulance is probably 10 minutes from Sheshader at best, if it is sitting in Stornoway – and potentially much further away, if it's on a call somewhere like South Lochs – he said the Sheshader defibrillator and emergency number were a great protection.
"Within eight minutes, it would save the lives of 15 out of 100 people who collapse out of cardiac arrest."
Sheshader Amenities Association received the defibrillator and training from Skye-based charity Lucky2BHere and around half the total costs of the equipment and installation, training, and the telephone system were met by the Point and Sandwick Trust donation.
---
>> Keep up to date with the latest news with The P&J newsletter
---
Mike said: "Point and Sandwick Trust gave us half the money. It was fantastically helpful. It takes the pressure off, when you are looking to fund something."
The emergency telephone system went live in November. Mr Shailes had come across it when he was doing internet research on defibrillators for community use. As far as he is aware, it is not a system far more commonly used in England than Scotland.
Donald John MacSween, General Manager of Point and Sandwick Trust, said the community wind farm was delighted to be able to help such a worthwhile project.
He said: "We are very happy to have supported this project and emergency set up in Sheshader. Hopefully, they will not have call to use it – but at least it is there if they do."