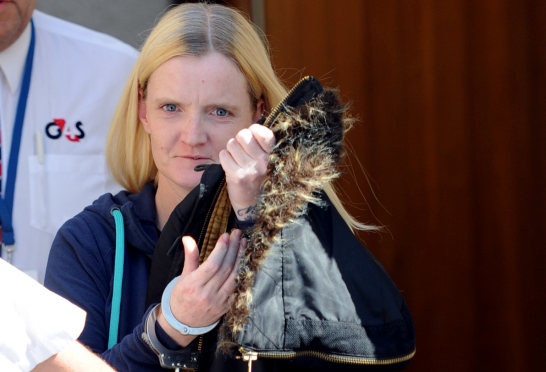 A callous thief befriended a stroke victim – then used his bank card to steal almost all his savings.
Victoria Gordon plundered hundreds of pounds from Fred Martin's account in the space of just three days to feed her heroin addiction.
The 32-year-old from Lossiemouth was jailed for five months yesterday after admitting taking cash retired dairy farmer Mr Martin had been saving to pay for his daughter's wedding.
But last night her victim said the punishment was not severe enough.
Elgin Sheriff Court heard that Gordon had initially become friends with 62-year-old Mr Martin's late wife and was a regular visitor to his home after she died.
When she was getting his cigarettes from a locked money box, she also took his Post Office account card and used it to steal £790.
Gordon made three withdrawals on August 14 last year totalling £320, the following day she took out £140 from the Post Office and £240 from cash machines and then withdrew another £90 on August 16.
Gordon admitted committing the thefts in Elgin and Lossiemouth.
Distraught Mr Martin, who is visited by carers following a stroke, said he felt betrayed someone he had considered a friend – and revealed not a penny of the money had been paid back.
He said: "I don't know how anyone could do that. I'm well shot of her now, she's never getting back into the house.
"It's a lot of money, I've never had any of it back. She almost emptied the whole account. Five months? It's not long enough."
Gordon initially denied any knowledge of the thefts, but as she was being taken to the front desk at the police station she said to officers: "Is this when I admit it?"
Fiscal Kevin Corrins said Mr Martin's support workers became aware he was unsettled because he could not find his bank card, which Gordon, of Bailey Place, Lossiemouth, later returned to the house.
Her agent, solicitor Matthew O'Neill, said: "At the time she was addicted to heroin. It was a spur of the moment impulse.
"The opportunity presented itself to her and she foolishly and appallingly took the card. She can't explain it, beyond saying she was addicted to heroin.
Sheriff John Rafferty told Gordon: "You have a record of crimes of dishonesty. In this case you took advantage of a man who was disabled, a man you described as a friend and who trusted you.
"You had opportunities to realise you had done something wrong and return the card.
"You didn't do that, you did the opposite and used it multiple times over three days."