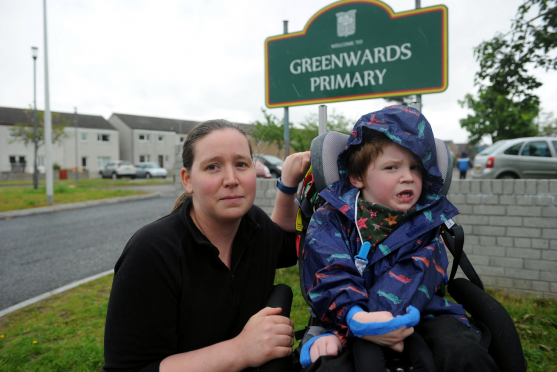 Campaigning parents intend to make their voices heard in the controversy over learning support changes in Moray schools.
Next week, the council is issuing a survey that will help shape the future of the additional supports needs strategy in the coming years.
Parents were outraged when a new formula for calculating schools' needs was agreed before the summer holidays.
Support staff, responsible for vulnerable children, have been redistributed across the region during the break – leading to some schools receiving a cut with others getting a boost.
Further changes are due in future years with the council describing job losses as "inevitable".
After meeting local authority chiefs individually during the summer, Birnie mother Gillian Groves believes the consultation could now be an opportunity for collective fears to be heard.
She said: "If the same concerns are being highlighted by everybody, then it will show them that it's not just one parent's worries.
"I think this has come too late though. They should have asked us what we thought before jumping in feet first and making the changes.
"At the end of the day, we know our children best and we know what is best for them.
"We're definitely going to make sure as many people as possible take part, so the council staff know exactly what's going on. The powers-that-be seem to live in a bubble sometimes."
Following the survey, meetings will be held in the eight school groups in Moray before the end of the year.
Mrs Groves' six-year-old son, Tom, has cerebral palsy and attends Greenwards School in Elgin. Although the ASN changes during the summer have not affected him, she still wants to move him to Hythehill School in Lossiemouth.
Mrs Groves said: "Tom still has one-to-one support, so I'm happy with that. Greenwards is open plan and Tom struggles with noise. It stresses him out, it's not really suitable for him."
The survey will be made available on Moray Council's website and schools have been asked to include the link on their own sites. The deadline for responses is September 28.
Electronic and paper copies will be made available, in addition to translated versions for families, who do not have English as their first language.