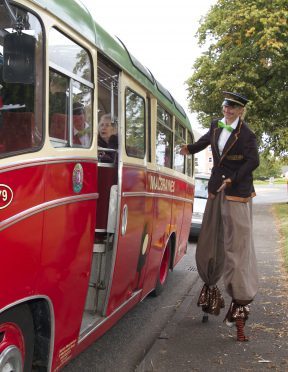 More than 300 Moray schoolchildren have snapped up tickets to an upcoming celebration of the arts, which will take place at some of the region's most scenic spots.
Plans are coming to fruition for next month's Findhorn Bay Arts Festival and an unprecedented number of creative youngsters are already making up their minds on which shows and workshops to attend.
The biennial event takes place between Wednesday, September 21, and Monday, September 26.
Festival organisers confirmed yesterday that performances will be staged on the beach at Findhorn, at Brodie Castle, in Forres's St Laurence Church and among the ruins of the historic Kinloss Abbey. And they provided more details on what the packed programme will offer.
English TV actress Janice Connolly, who featured in Peter Kay's Phoenix Nights and Max and Paddy's Road to Nowhere sitcoms, will stage a one-woman production.
She will perform three shows as Mrs Barbara Nice, a caricature of a middle-aged housewife from Birmingham, at Findhorn's James Milne Institute.
There will also be a tour of the area's art studios aboard a vintage 1950s bus, and the Jungle Book will be retold through puppetry and shadowplay at Forres Town Hall.
Numerous other theatre, dance, music and visual art displays have been programmed across the six-day event.
Event director, Kresanna Aigner, said: "We are in full swing with preparations now, and there will be a wonderful mix of arts and culture on show.
"We've kept our prices as low as possible, so that locals and visitors can soak up as much entertainment as they can."
The inaugural event in 2014 brought £650,000 to Moray, as many visitors travelled from overseas to visit.
More information is available at www.findhornbayfestival.com.