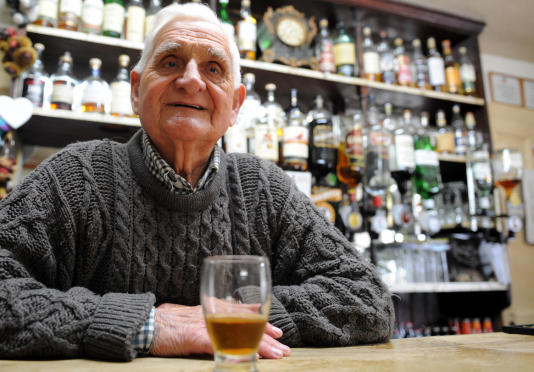 A stalwart who has been pulling pints in a Moray bar for nearly 60 years is aiming for a remarkable milestone.
Joe Brandie began working at the Fiddichside Inn in Craigellachie in 1959 and has only taken four days off since then – to mourn the death of his wife Dorothy.
Now he is targeting to work another three years behind the bar, which would mark a century of the riverside pub in the ownership of the same family.
Mr Brandie met and fell in love with her at the inn while she was working there when it was owned by her parents John and Helen Smith.
And he soon became a permanent fixture after the pair got married and he too started serving the regulars, while also working as a ghillie on the river.
Mr Brandie now wants to ensure his wife's legacy is kept alive as long as possible.
He said: "If my health keeps up then I'm hoping to make it 100 years in the same family. There aren't many people who can say that."
Initially built for the railway station at the opposite side of the River Fiddich in 1840, Mrs Brandie's parents bought the inn in 1919.
Some things have moved with the times since then – the toilets have now moved indoors, the only major alteration from when it became a bar.
However Mr Brandie insists some things will never change to ensure the welcome is as warm as ever.
He said: "I'll never get music or a television in here. A pub is supposed to be a social environment where you meet people and get talking. That's just the way it should be.
"I still enjoy meeting all the people who come back year after year. The bar is just the same as it was when it opened.
"I'll never change it. I want to keep it as it is. Everyone likes the unique feel of it."
The bar is a small room accessed by a passageway from the rest of the building, which is Mr Brandie's home. It is adorned with fishing pictures and photographs of the picturesque riverside pub.
Mr Brandie said one image, taken by a Swedish photographer, has been sold more than 500 times since being made available as a postcard at the bar a year ago.
And although not as busy as it was in its heyday the cosy pub and friendly welcome still pulls a crowd.
Mr Brandie added: "It's very popular with the tourists. It's not as busy as it used to be thought. The new breathaliser limits have hit country pubs hard, people just don't want to take the risk."