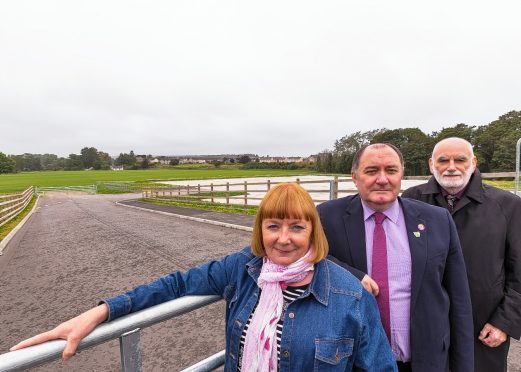 Moray's SNP and Labour groups have united in anger over a council U-turn on plans to create new football pitches in Elgin.
Responding to local demand, the authority had pledged to create three full-size pitches and a training facility at Deanshaugh playing fields after the turf was restored as part of the town's flood alleviation project.
But officers have now revised the scheme, meaning it will include only one full-sized pitch, and they have also withdrawn plans to build changing rooms.
Local authority leisure chiefs maintained that budgetary pressures forced a change of tack.
But the leader of the council's Labour group, John Divers, accused them of betraying local sports enthusiasts with a string of broken promises.
Nationalist councillor, Patsy Gowans, revealed that Bishopmill plumber, Alex Simpson, had offered to pay to rejuvenate the fields – but claimed he was discouraged by delays in processing his application.
Her SNP ally and fellow Elgin City North representative, Mike Shand, said the authority had created an "appalling stooshie" in its handling of the playing fields.
The council's head of lifelong learning, culture and sport, Graham Jarvis, told members of its children and young people's services committee about the changes yesterday.
Mr Jarvis said: "The new proposal is to have the land as a recreation area, with one pitch marked out."
He explained that – without changing facilities – there was likely to be insufficient demand to justify creating three pitches.
However, Mr Jarvis insisted there were enough pitches in Elgin to cater to the region's existing clubs and groups.
Mr Shand bemoaned the "awful report" which suggested that councillors approve the pareddown proposal.
He added: "The people of Elgin have been badly let down by Moray Council about Deanshaugh."
Mr Divers commented further: "We have received numerous letters about this going back years, and something has gone wrong here.
"I fully understand the council's financial position, but promises have been made to the public and we have a duty here.
"We have football teams in Elgin who have to play outside of the town because there aren't enough pitches."
Councillors agreed to defer any decision and requested a more detailed report on the fields, in advance of a meeting next month.
Elgin City North councillor Patsy Gowans declared that the local authority had missed out on a golden opportunity to revitalise Deanshaugh playing fields.
Mrs Gowans said that local plumber Alex Simpson approached the council last June with plans to "leave a legacy" in the town by funding improvements to the sports facilities.
She claimed he would have provided free labour and materials to bring the turf up to standard, and arrange volunteers to manage it.
However, Mr Simpson "lost faith" with the authority when it took six months for officers to submit the documents required for the scheme to progress.
Mrs Gowans said: "Because of that, the venture fell flat on its face and the chance was lost."
Deputy committee chairman George Alexander added that arranging a community asset transfer on council-owned land was "never easy".
However, it is understood Mr Simspon has yet to submit a business plan which the council requested.
The plumber told the Press and Journal that the council was at fault for the abandonment of his proposal, but would not comment further.