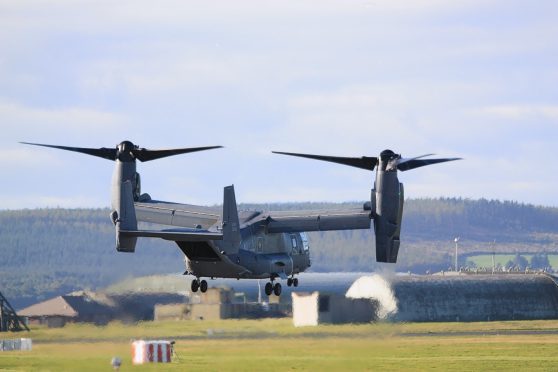 Some of the military's most distinctive and advanced aircraft have been taking part in vital training exercises at RAF Lossiemouth.
Two CV-22 Osprey tilt-rotor machines, built by American aviation giant Boeing, have been stationed at Moray airfield for the past fortnight.
The craft are part of the US Air Force's 352d Special Operations Wing, and are based at the RAF Mildenhall station near Suffolk.
A spokesman for the squadron confirmed that the detachment had been conducting training operations in Moray – and said the drills would prepare pilots for pivotal battlefield situations.
He added: "CV-22 Ospreys assigned to the 352d Special Operations Wing have been conducting low-level and terrain-following training missions in the area of RAF Lossiemouth during September.
"This is unilateral training, aimed at furthering our ability to plan and execute specialised and contingency operations using advanced aircraft, tactics and techniques to transport and resupply US and partner nation military forces.
"The 352d Special Operations Wing uses training as the foundation for everything it does.
"Events such as this ensure the wing is ready to respond to a variety of situations when called upon to do so."
Aviation enthusiasts have gathered at the foot of RAF Lossiemouth's north runway to marvel at the unconventional Osprey aircraft.
The machines can operate as both a helicopter and turboprop aircraft, and are capable of taking off and landing vertically.
The Osprey has a combat radius of 426 miles, and a top speed of 351mph.
Earlier this year, it was reported that the SAS was training with CV-22 Ospreys for counter-terrorism operations.
The aircraft first flew in 1989, and have subsequently been deployed in transportation and medevac operations in Iraq, Afghanistan, Libya and Kuwait.
The 352d Special Operations Wing dates back to 1944, as an air commando unit.
This summer, Boeing revealed plans to team up with the Ministry of Defence to build a £100million operational support and training base at RAF Lossiemouth.