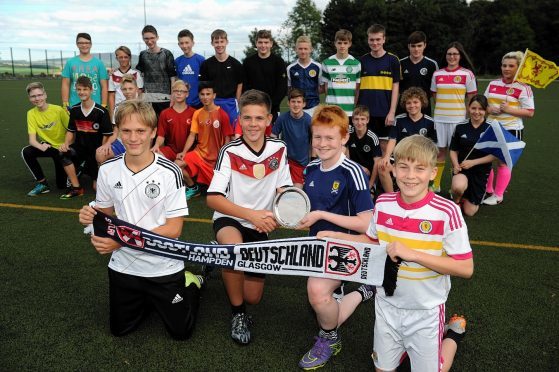 A group of Moray school pupils offered a warm willkommen to their German visitors by challenging them to an international football friendly.
A group of about 50 youngsters travelled to Keith from Kronach in Bavaria, to celebrate the twin link between the towns and sample Scottish culture.
And Keith Grammar School youngsters invited their counterparts from the Frankenhall Gymnasium secondary school to a good-natured game of football yesterday afternoon.
Prior to kick-off, representatives from the Moray school handed over a commemorative silver plate to their guests as a means of marking their stay.
Their principal teacher of modern languages, Lisa Bayliss, is part of the Banffshire-Kronach Twinning Association and helped set up the sporting fixture.
She said: "Our German visitors arrived on Sunday, and will be spending some time at the school taking in lessons.
"We wanted to have a special celebration to make them feel welcome, and thought this international friendly match would be a good way of doing that."
The Kronach youths will stay in the region for the rest of the week, using Keith as a launch pad to explore Moray and the Highlands.
They visited Spey Bay to take in Moray's rich marine life yesterday morning, and English and German teacher Susanne Ruckdaschel was thrilled to spot a seal.
She added: "A lot of our pupils have never been to Scotland before and we want them to get to understand its culture.
"We will be going to some whisky distilleries in Moray, and will visit Loch Ness later this week."
The party will depart on Saturday, after a farewell party in Keith's St Thomas Hall the previous night.