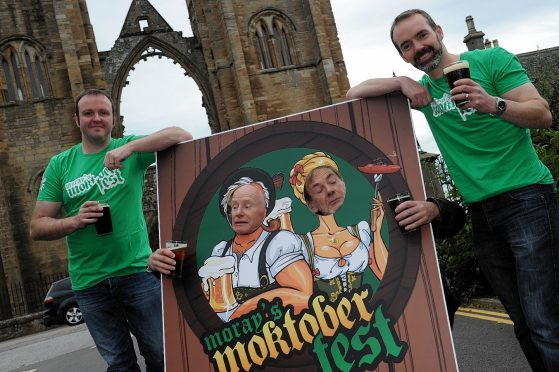 Moray's beer manufacturers will tap into a growing demand for craft ale during a lively celebration this weekend.
Enthusiasts will be able to sample almost 100 different beers and ciders at Moktoberfest, which will take place at Elgin Town Hall tomorrow evening and throughout Saturday.
All proceeds from the event will go towards charity, and organisers have laid out plans to net a bumper tally this year by bringing the spirit of the German beer hall to life as never before.
Yesterday, the brewers behind the festival gathered in Elgin to raise a glass to its fourth instalment.
Alistair Reid, from Lossiemouth's Windswept brewery, described how the bash would be expanded this year.
He said: "There will be a much bigger bar selection, with more than 50 beers and ciders on draught and 41 bottled varieties of beer on offer.
"When we first held Moktoberfest in 2013, we just had the 30 beers on draught."
He added that there will be a "big emphasis" on ale brewed in Moray, with more than 20 local offerings available.
David McDonald, from the Spey Valley brewery, said: "People are getting more and more interested in experimenting with different beer, and that's why we have been able to expand."
Each Moray-based brewery has teamed up with a butcher from their local community to create a speciality sausage using their beer, which will be on sale during Moktoberfest.
Windswept has combined its Wolf ale with venison, while Spey Valley IPA has added its IPA to pork sausages and the Rothes Brewery has mixed its Seafield Stout with venison.
Several bands will play over the course of the weekend, and the Moray Concert Brass group will fill the hall with the sound of oompah tunes to recreate an authentic Bavarian atmosphere.
Mr Reid added: "That really gets the party going, there's always a really nice atmosphere."
The event will run from 6pm to midnight tomorrow, and from noon to midnight on Saturday.
Advance tickets have sold out but entry can be gained on the door.