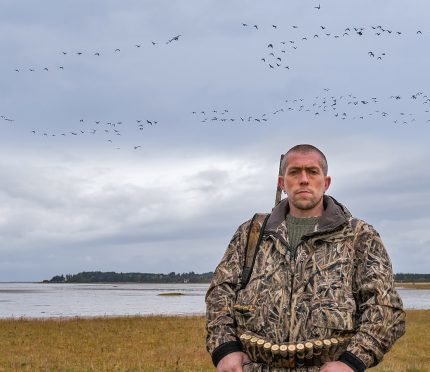 A hunter has accused wildlife campaigners of deliberately sabotaging the shooting season at a Moray nature reserve by scaring geese away from the marksmen laying in wait to shoot them.
Tensions between wildfowlers and campaigners at Findhorn Bay reached boiling point this week, when a birdwatcher called police to the coastal beauty spot.
Claudia Matheson accused one of the shooting group of deliberately discharging his gun over her head in a "clear act of intimidation".
But hunter John Wood maintained that nature enthusiasts visiting the reserve had been doing their best to aggravate participants in the traditional pastime.
And he called on the police to step in and monitor the bay to prevent any future disputes.
The Lossiemouth-based builder, 38, has been shooting birds at Findhorn since he was a teenager.
He claimed: "The birdwatchers have been deliberately standing right in front of the shooters this season, as an act of sabotage.
"They are wearing high-visibility vests, and try to prevent the geese from flying overhead by scaring them with movements.
"I believe this is a premeditated plan, and they are hoping to provoke the shooters into doing something which one of them will regret.
"I have visited the police station in Forres to discuss this and, if it carries on, I want an off-duty policeman to come down to the bay and watch what goes on."
However, local police bosses said they do not believe any crime has taken place at the bay, and indicated it was unlikely that an officer would be sent there to monitor activity.
Inspector Colin Taylor said: "Our role is to prevent, respond to, investigate and detect crime -with public safety at the forefront of our local policing priorities.
"With regard to recent alleged incidents, no criminality has been established and suitable advice has been provided to all parties involved.
"Police resources must be deployed to the right places at the right times."
The Friends of Findhorn Bay protest group has maintained the killing of geese and ducks at the beauty spot conflicts with its reputation as a nature haven.
Moray Council has asked the committee which oversees the reserve to liaise with campaigners and shooters and determine terms for a byelaw which neither party would oppose.