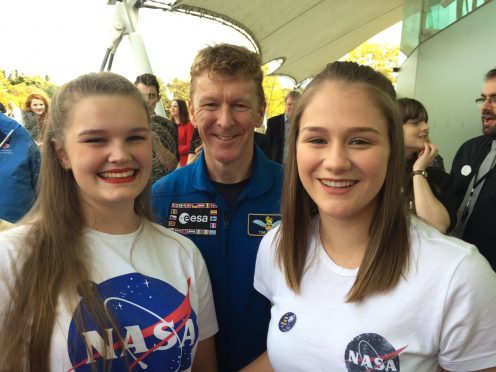 Two teenage space enthusiasts from Moray are over the moon after swapping notes with astronaut Tim Peake.
Elgin High School pupils Kirsten Flett and Ellen O'Hare travelled to Edinburgh to meet their idol this week not once, but twice.
The sixth year students have been replicating one of the astronaut's experiments he carried out during his time on the International Space Station, entitled Space Seed.
The 16-year-olds were comparing how plants grew on Earth compared to how they were growing in zero-gravity.
Tests showed the ones in space were not as strong and during the talk at Dynamic Earth, 16-year-old Kirsten pressed Mr Peake on whether there was any reason why.
She said: "He said they're still looking into it but they're getting closer to the answer. There isn't a clear reason.
"I just think space is amazing. There's so many things out there that we have no idea."
After the talk at Dynamic Earth, the duo met up with the astronaut outside before going to see another one of his presentations in the evening.
Both pupils picked out Nasa T-shirts to wear for the trip to the capital but were thwarted when they discovered they were unable to buy European Space Agency tops to match Mr Peake's jumpsuit.
Kirsten, who is also studying an Open University astronomy course, has set her sights on helping preserve the planet in the future.
She said: "I probably won't get the chance to go to space, although it's always possible, so I want to do geography to do something to help Earth."