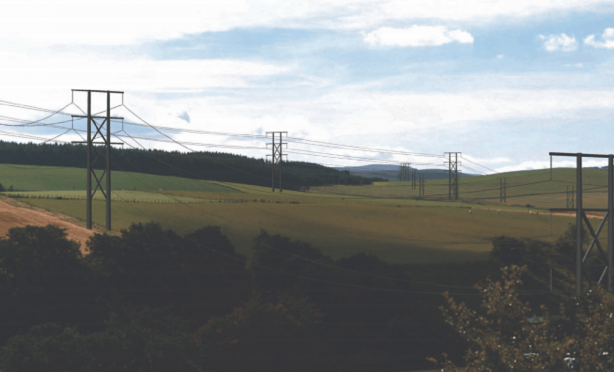 An MSP has warned that Moray risks becoming criss-crossed in a "web of pylons" unless alternatives are explored.
Richard Lochhead met with Speyside residents and power firm Scottish and Southern Energy Networks this week to discuss plans to hook the Dorenell Wind Farm to the national grid.
The energy company has proposed a 14-mile stretch of 78ft electric poles cutting across the countryside from the turbines to the Blackhillock substation near Keith.
But last night, Mr Lochhead repeated calls for underground cables to be investigated to protect the natural beauty of the area – an option ruled out as too expensive by SSEN.
The Moray MSP said: "Due to hosting the Blackhillock substation, Moray already has a considerable amount of electricity transmission infrastructure, some of which is thankfully already underground to avoid a potentially harmful cumulative effect.
"Everything that can be done should be done to minimise any further impact on our landscapes and local environment.
"We should always leave no stone unturned, so we don't end up with a web of criss-crossing pylons across Speyside and Moray when other options were available."
About 20 residents, who have been affected by the route of the power line, joined Mr Lochhead in meeting the energy firm in Drummuir.
Locals in Dufftown have also raised fears the route will affect tourist trade in the town due to the pylons becoming a blot on the landscape.
Calls by members of Moray Council's planning committee to explore burying the cables were silenced by planning rules, which restrict them to commenting on the application submitted rather than suggesting alternatives.
Due to the size of the development, the Scottish Government will have the final say about the proposal – with Moray Council, the Forestry Commission and Marine Scotland expressing concerns.
Approval was given for EDF to build 59 turbines at Dorenell, near Lower Cabrach, in 2011.
A spokesman for SSEN responded that they would be following up issues raised by Mr Lochhead and residents in the coming weeks.
He said: "Landscape and visual impact has been a key consideration at every stage in the development of our proposal and we have prepared a design which keeps this to a minimum, while also taking appropriate account of broader environmental issues, impacts on land use and cost considerations.
"We will continue to work with local communities and elected representatives to answer questions and address concerns where we can."