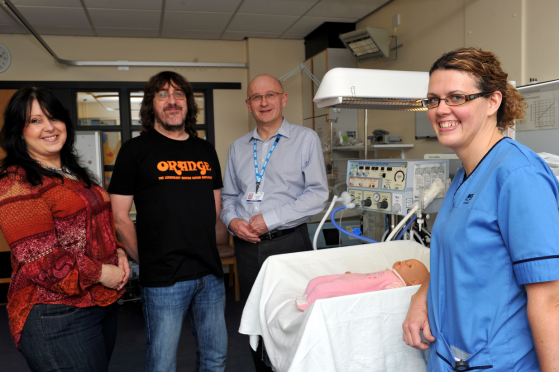 Two rock music lovers have transcended tragedy to raise more than £4,000 to fund new specialist equipment for a Moray hospital.
When Andy and Gill Cowe's newborn twins, Robyn and Erin, died within a day of being born in 2000, they were determined to do their bit to ensure no other parent had to suffer the same heartbreak.
And yesterday, the couple were at Dr Gray's Hospital in Elgin to present staff from the maternity ward with a cheque for £4,100 to pay for a new ventilator.
Amateur guitarist Mr Cowe turned his passion for music into a source of funding for the cause.
Signed guitars and drum skins from rock bands Whitesnake, Deep Purple, Europe and Black Star Riders were auctioned off for the couple's charity Rockin' For Tots to reach the total.
Mr Cowe, 52, of Edinburgh said: "I got a guitar signed by Gun, Thin Lizzy and the Darkness to raffle off at our first fundraiser in 2001 and it has just snowballed from there.
"All the bands are very helpful, getting memorabilia signed and sent back. I just feel it's something that we needed to do. The care we had from nurses was brilliant.
"We thought if we could contribute anything towards a few pieces of equipment, it would help. Some of these things have hefty prices, they're not cheap."
The continuous positive airway pressure machine will be used to support the lungs of newborn babies to help them to breathe.
The couple have already raised about £40,000 for hospitals across the country, and are continuing the drive with a guitar autographed by Biffy Clyro star Simon Neil and a signed vinyl album by Fall Out Boy.
Yesterday, staff at the hospital showed the dedicated duo how the new equipment would be used to help children.
Mrs Cowe said: "Robyn was still-born and Erin survived a day. It's a horrible thing for parents to go through and to live with afterwards. This is something we've done to help with that."
Dr Slawomir Wojcik, consultant paediatrician, said: "We don't ventilate children for longer periods of time. We stabilise them before we can get travel for them to Aberdeen, Edinburgh, Glasgow or wherever they need to go.
"This new equipment will certainly help us. It is a lot of money and a very generous donation."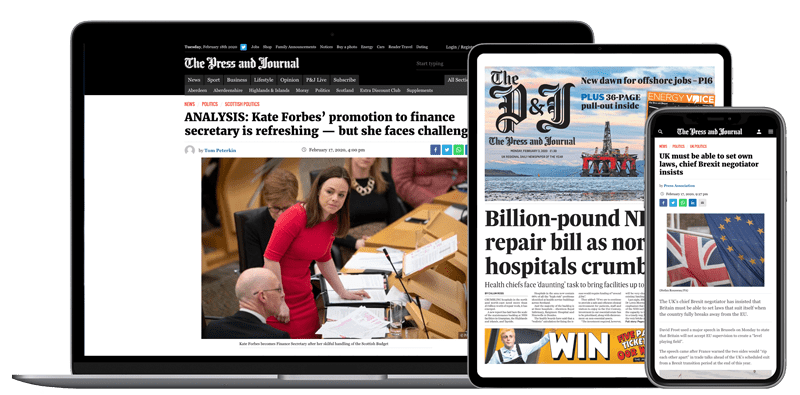 Help support quality local journalism … become a digital subscriber to The Press and Journal
For as little as £5.99 a month you can access all of our content, including Premium articles.
Subscribe