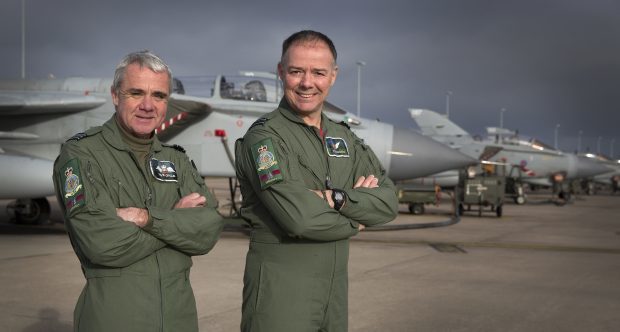 Two of the most experienced flying instructors at RAF Lossiemouth have passed a milestone which may never be matched.
Squadron Leader David Gallie and Flight Lieutenant Chris Stradling are the first crew to have flown together with more than a combined 10,000 hours in a Tornado.
The staggering landmark adds up to a 13-month stretch in the cockpit training the next generation of top guns for the Moray base.
With the long-serving Tornados scheduled to be withdrawn during the next three years, it is unlikely the feat will ever be surpassed by any other crews in the future.
Flt Lt Stradling said: "As far as we are aware, there are currently only two people flying the Tornado who have achieved over 5,000 hours on the aircraft.
"A small number of aircrew have in excess of 4,000 hours, with Sqn Ldr Gallie being at the top of that list.
"There is a possibility that a combined 10,000 flying hours may be achieved again with a different crew, but with the withdrawal of the Tornado fleet in the next few years, the likelihood will diminish with time."
The duo are qualified tactics instructors with RAF Lossiemouth's XV (Reserve) Squadron where they train pilots and weapons systems operators before they are posted to front-line assignments.
They did not initially recognise the statistical significance of the flypast at RAF Linton-on-Ouse in Yorkshire.
It was only when performing post-flight checks after landing they realised they had become the most experienced Tornado crew in history.
Sqn Leader Gallie piloted the sortie that saw him reach 4,800 hours in the fighter jet with navigator Flt Lt Stradling amassing 5,300.
Sqn Ldr Gallie added: "We discussed the achievement of the sortie when we landed, but it was not confirmed until the debrief."